Ambassador Spotlight: Tannaz Safari Vejin, MPH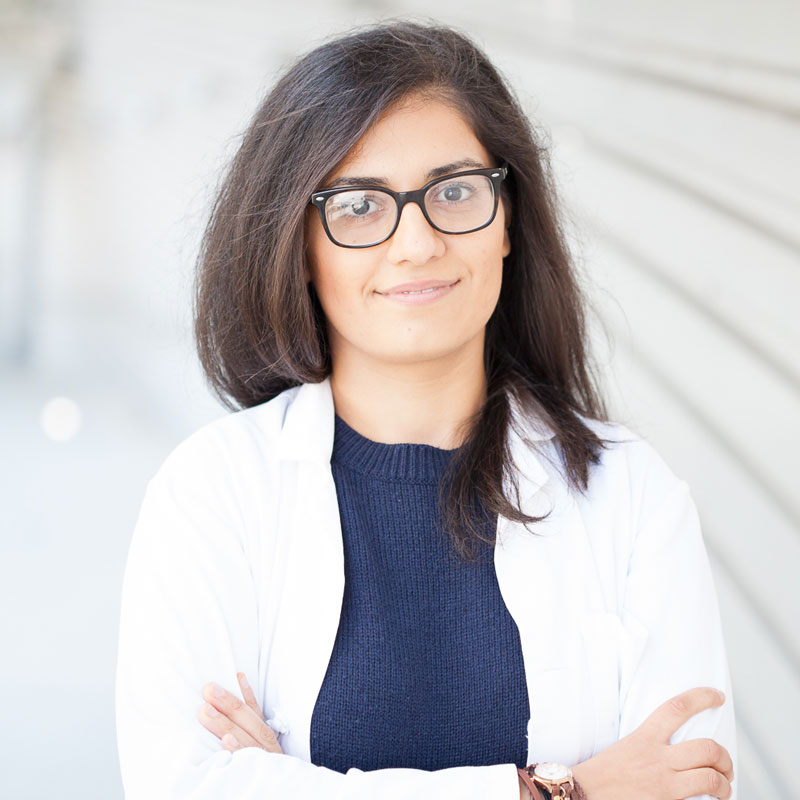 Tannaz Safari Vejin earned her MPH during the gap years she took after pre-med and before med school. Here, she talks about what she feels is an important skill set to master during the program, and how she feels getting her MPH has given her an edge.
UNE Online Ambassadors have been recognized by the College of Graduate and Professional Studies for being exemplary students and enthusiastic members of the UNE Online community. UNE Online Ambassadors serve as liaisons between our extended community and UNE Online, setting a precedent and standard for what it means to be a UNE Online student and community member.
Can you tell me a little bit about yourself, and what encouraged you to pursue your Master's in Public Health?
As a pre-med student preparing for med school, I was working in a hospital medicine program at UCSF, doing research. I was looking for an academic program to keep me engaged while I built on my application to med school, and I thought that an MPH would give me a strong background to have in parallel with an MD.
I applied to UNE's MPH program, and I was really excited to be accepted. I enjoyed being a part of the program and seeing it through, and I'm happy to say that I just started med school full time this fall, in Knoxville, Tennessee.
Are you happy that you got your MPH before med school?
Having my MPH has helped me in med school, for sure. I especially feel that I have an advantage when it comes to biostatistics and those types of concepts. Those skill sets also helped me in my research job, because a lot of the concepts related to one another.
Do many of your med school classmates have their MPH?
Surprisingly, I've found that not a lot of my classmates have their MPH. But even though I'm in the minority, I definitely like that I do have my MPH because it gives me an edge.
How did you decide on UNE?
What really drew me into applying and pursuing UNE over other schools was the online aspect, and then I learned about the flexibility. I knew I couldn't be full time due to my research job at UCSF, so I needed a flexible MPH program.
I found it appealing that I could work and go to school at the same time. It was the perfect match for me.
Read More: 5 Secrets of a Successful Online Student
How long did it take you to get through the program?
It took me about a year and a half, from beginning to end. I doubled up on courses toward the end of the program because I knew I wanted to go to med school in the fall, and I wanted to finish my MPH before beginning med school.
Did you feel as though you were in a community while getting your MPH?
Yes. I felt a great amount of support from my professors, and everyone at UNE. My Student Support Specialist Zac York was awesome at getting back to me about questions that I had, and I also made a lot of meaningful connections with my instructors. One of them actually wrote one of my letters of recommendation for med school.
What would you want a potential student to know before starting this online MPH program?
I would definitely recommend that students focus on managing their time efficiently. It's very important to be able to multitask, but also to stay organized when you're in an online program. Time management skills are something that I truly took away from my MPH program, and helped me to be successful. I don't think I would have been as successful as I was in the program if I wasn't able to manage my time and be efficient.
Also, if you find that you're struggling in a particular area, get help. If I was not successful on a particular assignment, I would make sure that I sought assistance and advice from my professors. They were all very willing to meet with me on the phone or during office hours, to go over what I got wrong, and how I could fix things. They were great, and very helpful.
Any words of wisdom to other pre-med students?
I'd recommend this program to any pre-med students who are taking gap years and who are also pursuing research positions. It's the perfect combination, because you can do a bit of both.
I'm so happy that I pursued my MPH at UNE. I feel that it gave me just that much more of an edge in med school, but I also think that it will help me greatly once I do graduate from med school and I pursue my profession as a physician.
Learn more about our online Graduate Programs in Public Health
Questions about public health certifications or the Graduate Programs in Public Health at UNE Online? Get in touch with an Enrollment Counselor at 1-855-325-0895, email publichealth@une.edu, or fill out an online application now at online.une.edu/gateway-portal-page! You can also download our program guide to learn more:
Graduate Programs in Public Health | Master of Public Health | Master of Public Health Spotlight | public health
---