Student Spotlight: Annie Lin, Applied Nutrition Program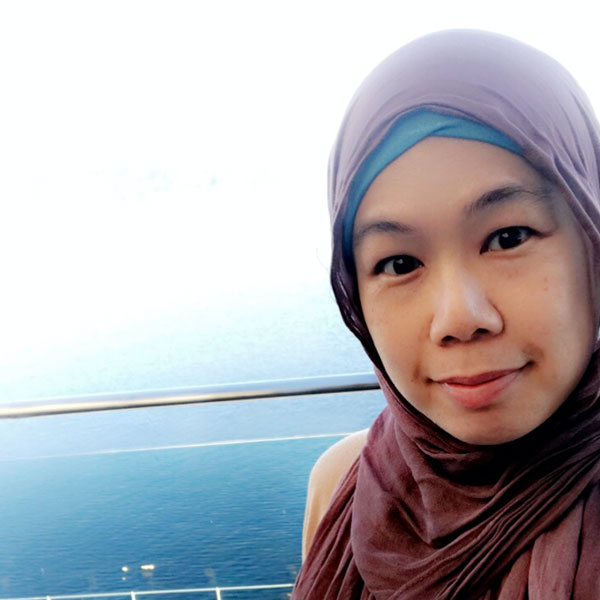 Annie Lin is a second-year student in the online Master of Science in Applied Nutrition program at the University of New England. We spoke with Annie about her experience in the program, her poster presentation at a nationally-renowned conference for the field of nutrition, and her thoughts on being a part of an online learning community.
Can you tell me a little bit about yourself, and what encouraged you to pursue your Master of Science in Applied Nutrition?
I grew up in a traditional Chinese medicine household. We always prioritized health and nutrition, but it wasn't until my husband had a liver transplant and stroke that I decided to focus on nutrition.  While he was recovering from the transplant he was on a long list of medications and had severely limited mobility. I did not want to accept that as his destiny, so we decided we were going to nourish his gift of life and liver, and we changed his diet. To make a long story short, he was able to stop over ten medications, his mobility was restored, and he had a boost of energy.
When he became less dependent on me, I decided to go back to school, which is something I had wanted to do for a while. I felt that the field of nutrition was growing very quickly, so I wanted to jump in and make my contribution. I wanted to help other people the way that we were able to help my husband.
As a science teacher, how does getting your master's in the field of nutrition help you?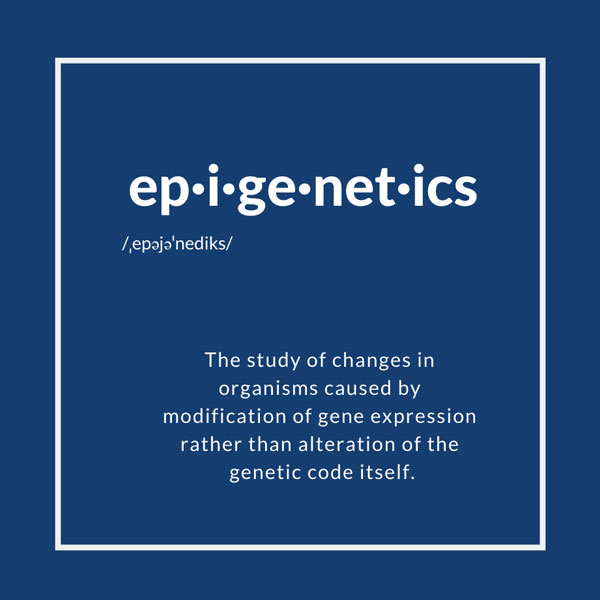 I am an educator at heart and always will be, but I want to go into clinical work and research. I plan to go all the way and earn my Ph.D. in Clinical Nutrition. I'm on the path to become a Certified Nutrition Specialist (CNS) first, with a focus on nutrigenomics and epigenetics. I'm also in a functional medicine program.
My ultimate goal is to combine my background in science and biology together with functional medicine, my Master of Science in Applied Nutrition, and the knowledge of physical health I've attained through being a fitness instructor.
LEARN MORE ABOUT THE ONLINE APPLIED NUTRITION PROGRAM
You recently attended the American College of Nutrition conference and presented there.  Can you tell us about that experience?
I learned about the American College of Nutrition through one of my instructors, and I quickly decided to become a student member. When I discovered they were having a conference on personalized nutrition, I was immediately interested in attending because that's the area of nutrition I would like to specialize in.
At the time I learned of the conference, my coursework (APN 610 Research Methods and APN 615 Nutrition and Metabolism) was focused on developing research and the process of submitting IRB proposals – so when I got the email that they were accepting abstracts for poster presentations, it fit with my coursework perfectly. I thought that this conference would be a great opportunity for me to apply what I've learned at UNE so far.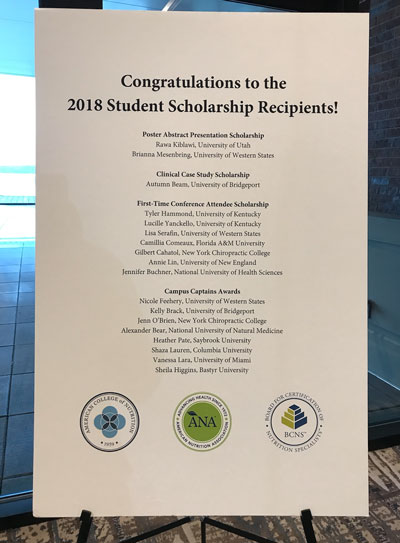 All of the key assessments that we've done in our coursework have had to be prepared in such a way that they were suitable to present to other nutrition professionals as well as to laypeople. So when I had the actual opportunity to do that at this conference, all of my preparation from UNE helped me immensely. 
I submitted my poster proposal just to have the experience of writing a poster proposal – I really did not think I was going to get chosen. To my surprise, not only did they choose me, but I also received a scholarship! It was an honor to go to the conference and present my poster. I was also able to get feedback from, and network with, some big names in the field of nutrition.
It was very inspiring to be among top nutrition scientists as they gave their presentations. I'm so grateful that I had the opportunity not only to attend this conference, but also to be among all of these giants in nutrition, to learn from them, and also to present my poster as a humble student. UNE helped to get me there, and for that, I am extremely grateful. It was a great, great experience.
What was the topic of your poster presentation?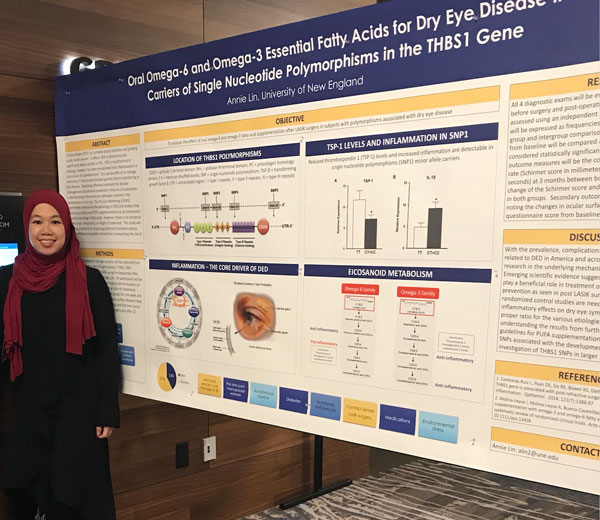 My research presentation was entitled "Oral Omega 6 and Omega 3 Essential Fatty Acids for Dry Eye Disease in Carriers of Single Nucleotide Polymorphisms in the THBS1 Gene."
I used the proposal from one of the key assessments for one of my classes, where I was able to work on the assignment at the same time I was developing it for submission to the conference. My classes at UNE really helped prepare me for this experience.
At the conference itself, I was able to get some very valuable personal feedback from nutrition professionals working in the field right now. As for next steps, I believe that I will look into refining the research proposal, and then eventually submitting it for IRB review to make the proposal a reality.  
What are you planning to do with your master's in nutrition?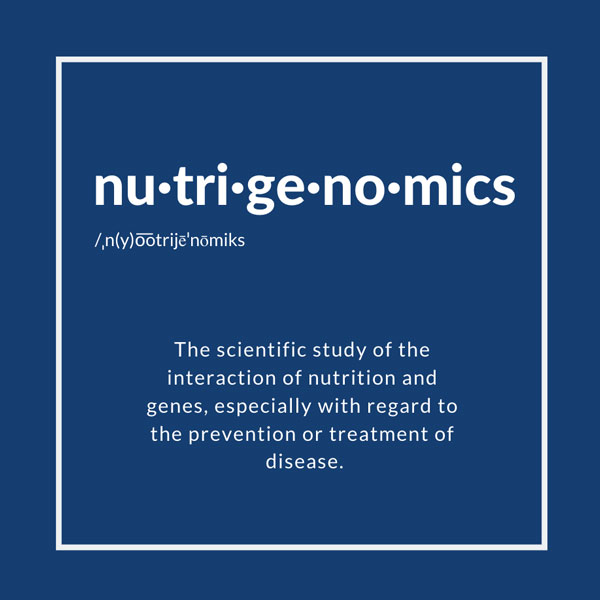 The field of personalized nutrition is exploding. I'd like to specialize in nutrigenomics with a focus on functional nutrition, and later on, down the line, I'd like to work in the clinical side of the field and get into research.
In simple terms, nutrigenomics is the way that our food speaks to our genes. Basically, food can interact with our gene expression and turn it off or on.  Just because someone is a carrier of a certain gene, doesn't mean it has to be expressed – in fact, sometimes certain foods can help turn those undesirable genes off. 
Not everyone responds to the same nutrients or food in the same way. That's why a one-size fits all approach doesn't work with diets. Nutrigenomics is systems approach based on one's unique physiology, which is why it is often referred to as personalized nutrition.
How did you decide on UNE?
I was still taking care of my husband, so I knew I needed my master's program in nutrition to be online. I started by going to the Board for Certification of Nutrition Specialists website to research approved programs, and I made my way down the list one by one. When I read about UNE, the history of the program, and the reviews, I liked what I saw. It seemed like a perfect fit between the curriculum, the pricing, and the way it was structured.
It turns out that I do love the program. I love the interactivity of the discussions and the professors, and the knowledge and guidance from my professors, as well as the rich variety of assignments and the key assessments. I'm learning so much – from not just my professors, but my fellow classmates. The assignments are interesting and help provoke new thought processes. I'm so glad that I chose UNE!
Read more: Spotlight on the Applied Nutrition Trends & Issues Student Blog
Did you feel as though you were in a community while getting your Master of Science in Applied Nutrition?
Definitely, yes. From the beginning of the program I've been following along with a group of mostly the same students, so we've gotten to know each other. It's been great because we have been watching and helping each other grow and evolve as we progress in the program. When I started taking different electives, I got the chance to meet other students, which is also amazing because they all come from different backgrounds and modalities.
I just love that we have so much diversity in the group. Some of them are Registered Dietitians, some are nurses, and some have a business background. It's really wonderful to have this pool of people on the same path but coming from very different backgrounds.
I especially felt like a part of a community when it came to the discussion posts included in each course.  The posts are deceptively simple until you realize how much thought has to go into them. You have to formulate the post and back everything up with evidence, which I love, but that takes time.
Getting and giving feedback is also valuable. I really appreciate that everyone has different opinions because you get to see how other people look at things, the evidence they use, and what their approach in the field of nutrition is. Seeing things while using different lenses is very much preparing us for real-world scenarios as nutrition professionals.
What would you tell a potential student considering this program?
It's a lot of dedication, and a lot of work, so you need to definitely set that time aside. As a graduate-level program, it's not an easy program. But at the same time, every second spent studying and reading and going back and forth in the discussion posts is worth it.
The feedback that I've gotten from the professors and from the discussion posts is just so valuable. I have learned so much in just a year, I'm looking forward to receiving my master's degree this summer!  
---
Are you interested in new advances in the nutrition field such as personalized nutrition like Annie? If so, learn more about getting your Master of Science in Applied Nutrition online:
Applied Nutrition | Graduate Programs in Applied Nutrition | Master of Science in Applied Nutrition | Master of Science in Applied Nutrition Spotlight
---
One response to "Student Spotlight: Annie Lin, Applied Nutrition Program"