UNE Online Portland City Guide 2019
Congratulations, graduates! We're so excited that you'll be joining us for Commencement!
Portland has so much to experience – each year we have fun listing our favorites out of all of the uniquely "Maine" things that Portland has to offer. These are our favorites here at CGPS – we hope you enjoy them!
Portland Maine Visitors Guide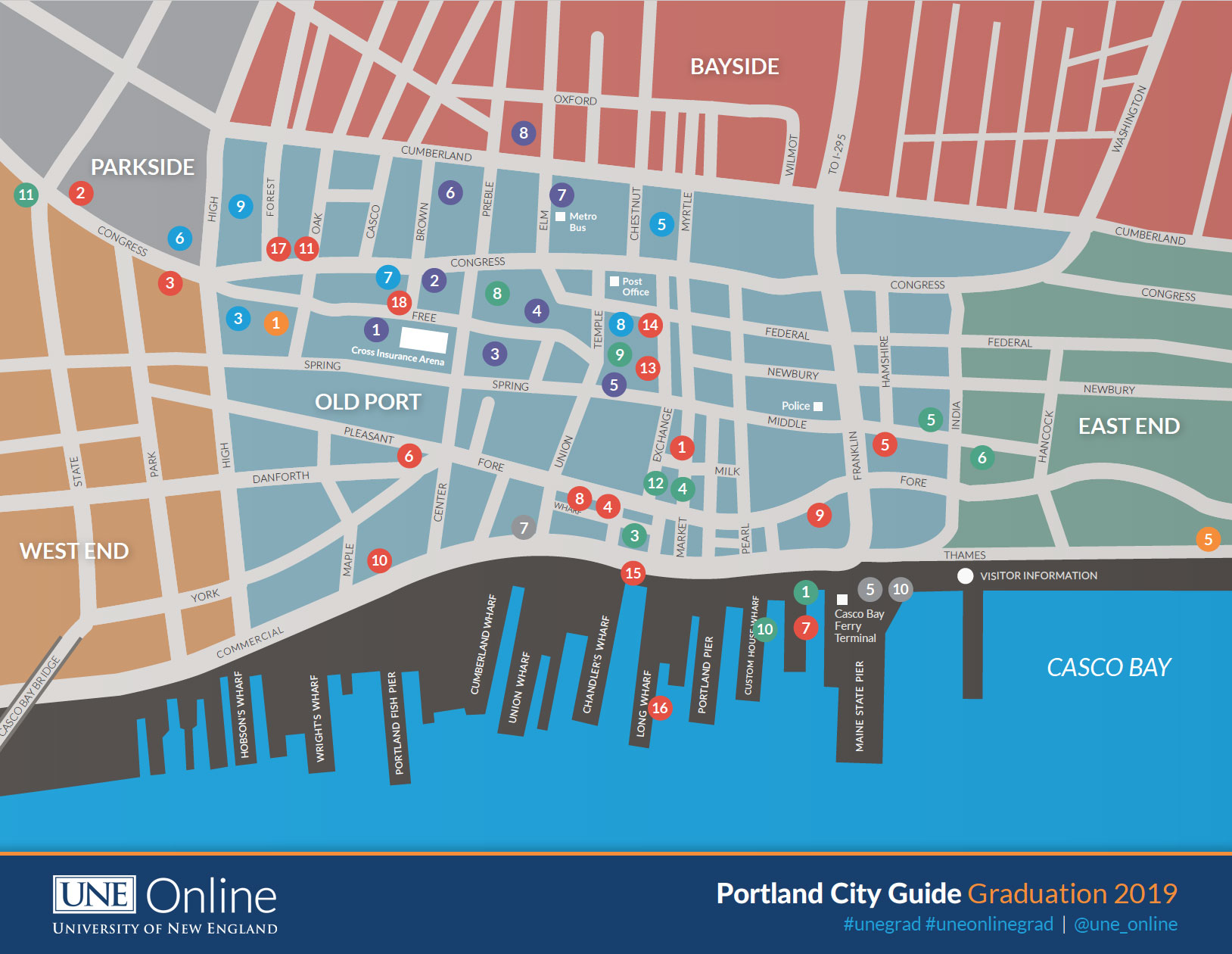 What should you do while you're in Portland?
Top things to see in Portland
Best places to get lunch within walking distance of the Portland Campus
Do you have just a few minutes to grab lunch? Here are a few of our go-to places for lunch.
Top lunch places in Downtown Portland
These spots aren't really walkable from campus, but they're all pretty much within walking distance of one another once you're downtown. Most of these restaurants are also open for casual dinner, but check before you go.
Top dinner places in Portland
If you are a foodie or a fan of craft beer you have certainly come to the right place. Bon Appetit named Portland, Maine, the 2018 Restaurant City of the Year!
Family-friendly places and activities
Stretch your legs and feed the ducks at Evergreen Cemetery right next to UNE's Portland Campus
Jump around at Urban Air or play on the indoor playground
Want to go bowling and have great food too? Choose from
Bayside Bowl – bowling with a hipster vibe, good food, excellent rooftop deck 
Spare Time – traditional bowling alley with burgers and fries
Sea Dog Brewing, Broadway – bowling, plus great food, beautiful views of Portland, and outdoor dining options
Round 1 – located in the Maine Mall, go bowling, play the arcade, or sing some karaoke
Explore the interactive exhibits at the Portland Children's Museum
Catch a Portland Sea Dogs baseball game and have one of their famous Sea Dog Biscuit ice cream sandwiches
Take a short ride on the Maine Narrow Gauge Railroad and browse their museum
Visit a park playground or play in the sand a nearby beach
Learn about our galaxy and beyond, at the Southworth Planetarium
Hotel suggestions
Embassy Suites – 15% discount for UNE
Hampton Inn Portland Downtown -Waterfront
The Hilton Garden Inn Portland Downtown Waterfront
Hyatt Place Portland Old Port
Parking garages around the Cross Insurance Arena for graduation parking
Spring St. Parking Garage – city-owned– closest to Cross Arena but fills up quickly
United Parking Partners – private lot – Free St., across the street from Cross Arena
Fore River Parking – private lot – 44 Free St. – cash only
One City Center Garage – private garage – open 24 hours
Temple St. Garage – city-owned – 11 Temple St.
Monument Square Garage – 53 Brown St.
Elm St. Garage – city-owned – 21 Elm St.
There you have it – our top recommendations for Portland visitors in 2019. It's not a comprehensive list, but these are our happy places. And as everyone knows – the best way to multiply your happiness is to share it with others. 
Please feel to multiply your own happiness by sharing this guide with your friends or other Portland, Maine visitors. Those little icons at the bottom of the post are shortcuts for sharing.
Commencement
---