Faculty Spotlight: Leanne DiMaio – MPH Program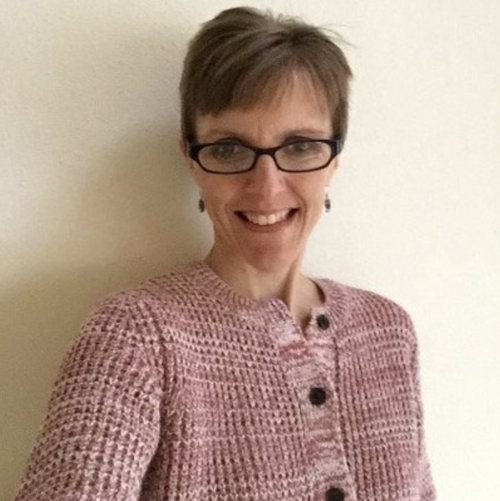 Recently, Leanne DiMaio was asked to be the subject matter expert and course designer for a brand new course within the Masters of Science in Applied Nutrition program, 'Nutrition, Wellness, and Multimedia Communication.'
Leanne has been a course facilitator in the UNE Online MPH program since 2012, directly after graduating from the MPH program herself. She earned her MBA from Saint Joseph's College and a Master's degree in Clinical Nutrition from New York Chiropractic College. Leanne is currently in the process of earning her Doctorate in Clinical Nutrition (DCN).
Leanne currently works in the field of Population Health and Wellness and leads a team that focuses on managing disease management and wellness programs.
Here, she discusses her interactive teaching style and the benefits of working with UNE students.
Can you tell us a little bit about your background, and what drew you to teaching at UNE?
I was previously a student at UNE and had a fantastic experience. I graduated from the Master of Public Health program in 2011, and my teaching career actually started with the Public Health Program at UNE. The Dean at the time reached out to me to see if I would be interested in being a teaching assistant for one of the public health courses in that program. I was very interested, and that led to becoming a course facilitator. I've been teaching at UNE for nearly six years now.
As for my educational background, I have an undergrad in Nutrition and Health Science, Master degrees in Public Health, Business Administration, and Clinical Nutrition. This fall I started working on my Doctorate in Clinical Nutrition. I love school – so you can see why I'm drawn to teaching!
Can you tell us about the course you helped develop at UNE Online, and how you feel that the course will prepare students for the real world?
The course that I designed is called 'Nutrition, Wellness, and Multimedia Communication.' I feel that that course is highly relevant and will greatly prepare students for the real world because media is everywhere. It's just a fact of life at this point. And people aren't just getting letters in the mail or reading magazines any longer, they are being constantly engaged through several different channels of communication each day; this course focuses on the strategic use of these channels and how they can be best used in the nutrition industry. We also incorporate theories of mass communication, and how we can apply those theories to our nutrition and wellness practices.
The course content is focused on nutrition and wellness, and the multimedia communication piece is the method by which we engage people. So, for example, I have the students create a blog. That's their big project for the course. With a blog, you have the written component, you can add videos, you can link out to social media, and you can add pictures. A blog can be built out to be a true multimedia approach.
In our class, the assignment is for the student to build an educational campaign linked to their blog. For example, one student's subject was the importance of a plant-based diet. She incorporated a video of herself talking about it, she had her blog connected to her Instagram feed which pulled pictures into her blog, and she wrote about her topic. That's how we practice applying various methods of communication across different channels to educate a person on a topic.
Students build an entire blog from the ground up?
Yes. I have them build out the 'About' section, to explain the purpose of their campaign, and then I have them do a couple of different types of posts. For example, for one of their posts they need to utilize the 'Stages of Change' model in creating their post. It requires them to discuss behavior change and incorporate the relevant theory behind it.
A second post also has to do with behavior change to get to that same goal, but with another theory. So for example with the student who focused on the importance of a plant-based diet, the behavior change she focused on was instituting Meatless Monday. So the goal is to have a behavior change around not eating meat on Mondays. This is an incremental goal, to move towards that total outcome goal of being plant-based.
In all, I'm very pleased with the students' efforts on their blogs. They did a really nice job. For many of the students, this was their first experience creating and maintaining a blog.
What was it like to design a course as a Subject Matter Expert?
Well, this was my first time designing a course. I've been a course facilitator for several years now, which has given me one perspective. However, designing a course gave me a whole new appreciation for the sheer amount of work that goes into a new course design. Pretty close to eight months worth of work went into it. And I have to say that Dr. Dodge and all of the other Nutrition program staff, and the course designers were definitely helpful and engaging, which made the process a smooth one. Having that behind-the-scenes support made it a rewarding experience, and their confidence and experience really put me at ease.
Now that the class has completed one entire term, I'm looking forward to the second time around for the class. We all closely monitored the class as we went along in the first round, but I really didn't have to answer very many clarifying questions from students, which was the way I was keeping a pulse on how the course was being received. You know if you get a lot of questions it means that students aren't understanding your vision – but I think I had just one question about one assignment. And the feedback that I got in the course evaluations that were completed after the conclusion of the class were all very positive.
What was your favorite aspect of the course?
I really looked forward to getting my students' weekly blog link. Each week they had to complete a different component of their blog, and it was interesting to track each blog's development from a basic shell into a sophisticated communication platform. It was also fascinating to see different people's take on the assignment.
In your teaching, how do you foster a sense of community among your online students?
I find that I teach in the way that I prefer to be taught. I've been in school for the past decade – I love school. When I'm in an online course, there's nothing that aggravates me more than a professor who I don't see in the discussion board, and really my only form of communication with the professor is getting a grade. So for me, I make every effort to comment on each student's initial discussion board post.
I generally comment on 2-3 posts a night. I space it out so I make sure that I log into the course every day. Again, to show my presence. I've always gotten a lot of comments on that in my evaluations about the level of engagement that I give in the discussion boards. With my discussions, especially in the bigger classes, sometimes I don't write a lot, but I always make sure to ask follow up questions to help keep the conversation going.
Another way I assist in fostering a sense of community is that I always make a new announcement at the start of each week that serves as a kind of overview of the upcoming the week. Also, and this may be redundant, but I always remind students the different channels that I'm available to them through. My students reach out a lot via email, but also by phone, and increasingly via text. I personally don't mind getting text messages from students. I always tell them that if they have a simple question and they want a quick response, a text is fine. But if it's something more elaborate, we need a phone call or an email. But if they have a question, simply asking when something is due, I can answer that in ten seconds in a text.
What do you like best about working with UNE Online students?
Well, there's really nothing that I *don't* like! I've been teaching pretty continuously at UNE for the past six years, and I've always had very respectful students who are engaged throughout the course of each class. And if they suddenly drop off the radar, they reach out and they tell you why. Life happens while you're in school, and we recognize that. I feel like I've been lucky having had students that are here to really work.
What do you feel sets the UNE Online Master of Science in Applied Nutrition program apart?
One of the best things about the program, in my opinion, is the "applied" component of it. I really can only speak to the class that I designed, but the way I designed my class was the students didn't just learn from a textbook about multimedia communication. They actually had to do something with it. And I think that it's having that application of the knowledge that you're learning, is what sets this program apart.
---
Thank you, Leanne, for sharing a little bit about your teaching style and your thoughts about designing a brand new course!
If you'd like to see some examples of what types of blogs Leanne's students are building, here's a great one called the "Food Smiles" which addresses the documented need for nutrition education in dentistry: foodsmilesblog.wordpress.com
And here's another wonderful example, called "The Good Life" which operates on the premise that the more you understand your body and the foods you eat, the closer you can reach your best quality of life: nutrition6511.wordpress.com
Tags:
Applied Nutrition | Faculty Spotlight | Master of Science in Applied Nutrition | MPH | MPH Faculty Spotlight
---