Faculty Spotlight: Angelina Moore Maia, PhD, RD, LD, Applied Nutrition Program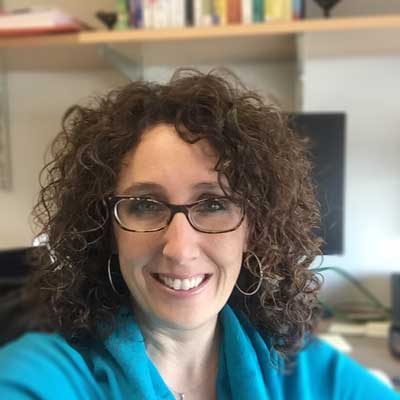 Dr. Maia is the MSAN Assistant Director/Director of RDN Focus at UNE Online. Here, she talks about her background, what drew her to the field of nutrition, and why she is passionate about being an influence on what education looks like for people who intend to become a registered dietitian and get their master's degree in nutrition online.
Can you tell me a little about your background and what drew you to teaching at UNE Online?
I've been a registered dietitian for almost 19 years, practicing in Maine and Massachusetts. I've enjoyed time in the clinical setting, working with Nutrition Support Teams in large teaching hospitals as well as a variety of positions in outpatient counseling, including a School Nutritionist for Simmons College, providing nutrition counseling on topics such as sports nutrition, healthful eating and eating disorders.
In Massachusetts, I did outpatient counseling in a community with a large immigrant population. I worked with interpreters on a daily basis. It was fun being able to connect with and educate patients from all over the world about nutrition with the help of the interpreters.
The past four years I worked in Rochester, NY, however, when the opportunity arose to return home to Maine and be a part of the development of the new Future Education Model (FEM) program for ACEND® here at UNE Online for the master's degree in nutrition online, it was a no-brainer for me.
LEARN MORE ABOUT OUR ONLINE APPLIED NUTRITION PROGRAM
What got you interested in becoming a registered dietitian?
Initially, I was leaning towards osteopathic medicine, but I didn't know if I'd be able to have the impact I wanted to have with people. Physicians' schedules are very busy and full. I knew I wanted to be in a helping profession, so I kept exploring my options.
It was when I took my first nutrition class in undergrad that I fell in love with the field and changed my major. This was the profession that would allow me to build relationships with patients and hopefully have an impact on their lives and overall health.
Could you tell us about your dissertation?
My dissertation involved working with children in larger bodies, addressing an overall healthful lifestyle, self-esteem, and building a positive body image. We moved the focus away from weight loss and worked on making healthful choices together with their parents. We also approached this from a standpoint of focusing on intrinsic, or internal motivation, rather than external motivators around making these changes.
The study was informed by the Self Determination Theory and utilized motivational interviewing in the counseling sessions. The theory really zeroed in on supporting the child's autonomy of choice, focusing on the relationships in their life, and helping to build those up and working on their confidence in being able to make these changes.
It was extremely rewarding, and the feedback I got was amazing. I got letters from the kids and from the parents – it was a powerful experience.
Can you share an example of one of your successes?
One of the participants was a 10-year-old girl, I'll call her Sophia. Her Mom battled breast cancer and was finally in remission but Sophia continued to struggle with separation anxiety. She would try and go to a sleepover with friends but would always end up in tears, wanting to go home. During our first session, she told me that her long-term goal was to not only have sleepovers with friends but also to sing a solo for show chorus.
She was a smart kid and acknowledged that singing a solo and having sleepovers weren't strictly nutrition-related but, as I mentioned above, the point of this study was to support their autonomy of choice. We decided to work on those goals together.
Her Mom emailed me three months after the study ended to let me know that not only did she sing a solo in show choir, but the song was "Brave." And what was even more unexpected was receiving an email from her Mom a year later… she had spent an entire week away from home at music camp.
In my experience, I found that connecting with patients by having compassion and supporting their goals and choices can yield extremely positive results. That was one of the best emails I've ever received.
The Applied Nutrition program is a very rigorous, science-based two-year master's degree in nutrition online. This program truly embodies the term "applied" – the courses provide lectures, readings, discussion boards, and assignments that help the students apply what they're learning in real-world settings.
We've had students who are registered dietitians and are looking to get their master's degree and we've had students that are from a non-science background looking to possibly change their career, maybe looking at being a nutrition educator or wellness consultant of some sort.
The Applied Nutrition program at UNE is an extremely rigorous program grounded in the sciences, focused on applying evidence-based nutrition practice across the profession.
Now that the program is accredited by ACEND®, what is your role?
As an ACEND® accredited program, our goal is to educate and graduate practice-ready RDNs. Our master's degree in nutrition online program is unique in that students will be able to set up Supervised Experiential Learning (SEL) sites where they live while taking all the graduate courses online.
Traditionally, most students have had to relocate around the country for a year or more to fulfill their internship requirement. My role will be working with our students as they locate their SEL sites. I'll also be speaking with preceptors, making sure the students are receiving the best possible experience to help them meet their competencies and be successful in the program.
What is ACEND®?

The Accreditation Council for Nutrition and Dietetics (ACEND®) is the accrediting agency for education programs preparing students for careers as Registered Dietitian Nutritionists. ACEND®️ serves and protects students and the public by assuring the quality and continued improvement of dietetics education programs. Programs meeting the ACEND® Accreditation Standards are accredited by ACEND®.
Upon successful completion of an ACEND® accredited Future Education Model graduate program, students receive a verification statement that allows them to write the exam for the Registered Dietitian Nutritionist (RDN) credential.
What advice would you give people looking to get a master's degree in nutrition online?
The number one thing I tell students who are looking to enter our program is that this is a Master of Science program. In addition to being focused on science and research, master's degree in nutrition online students must be self-motivated and very organized. 
Our faculty are top-notch. Most all have terminal degrees and are distinguished in their area of specialty and love teaching our students. In addition, you will have a Student Support Specialist for added support as you move through your courses and the program.
Ultimately it's important to understand that online learning requires very good time management and a healthy dose of self-motivation. This master's degree in nutrition online is a rigorous program, but our entire college is structured around supporting our students and helping them succeed.
Interested in getting your Master of Science in Applied Nutrition?
Applied Nutrition | Graduate Programs in Applied Nutrition | Master of Science in Applied Nutrition | MSAN | Registered Dietitian Nutritionist
---
2 responses to "Faculty Spotlight: Angelina Moore Maia, PhD, RD, LD, Applied Nutrition Program"