1st Annual UNE Nutrition Symposium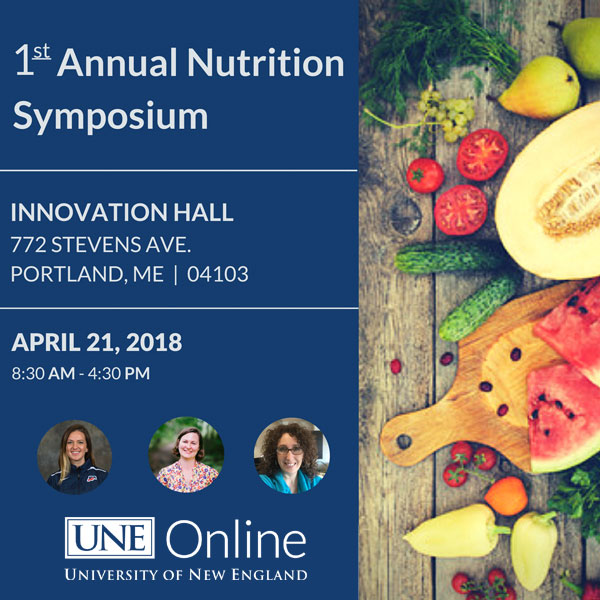 UNE Online and the Graduate Programs in Applied Nutrition are excited to announce our first annual UNE Nutrition Symposium!
The event will be held on Saturday, April 21st right here at Innovation Hall in Portland, ME. We have an exciting lineup of speakers and breakout sessions.
Attendees will:
Become familiar with best practices in the field of sports nutrition.
Identify nutrition strategies to apply to both team and individual athletes.
Understand the concepts of motivational interviewing as well as be able to identify determinants of behavior change.
Gain a broad understanding of health informatics and be able to put documentation processes into practice.
Topics and speakers will include
Best Practices in the Field of Sports Nutrition
Speaker Carrie Banner Aprik, MS, RD, CSSD is a Consulting Sports Dietitian for the gold-medal-winning US Women's National Hockey Team, US Figure Skating Team, and the Detroit Pistons basketball team.
Motivational Interviewing: Revolutionizing Healthcare with Behavior Change
Speaker Angelina Moore Maia, Ph.D., RD, LD is the Program Director and a Lecturer in the Dietetics and Nutrition Program in the Wegmans School of Health and Nutrition at Rochester Institute of Technology.
Health Informatics: Documentation Processes
Speaker Megan Landry, BSN, MHA, was the former Program Manager at the University of New England in the Graduate Programs in Health Informatics.
Breakout sessions will include:
Winter Olympics: Nutrition Strategies for Athletes with Carrie Banner Aprik, MS, RD, CSSD
Motivational Interviewing Case Studies with Angelina Moore Maia, Ph.D., RD, LD
Health Informatics Case Studies with Megan Landry, BSN, MHA
Click here to view the full agenda
Symposium will be live streamed and recorded
As an online college, we have students around the globe – so we will be live streaming the sessions for those who cannot physically attend the event. Please select the virtual ticket option for the link to attend online.
If you cannot make it to one of the breakout sessions that's OK too – the sessions will be recorded and a link will be sent to registrants about a week after the symposium.
Virtual questions
Virtual participants will also be able to interact and ask questions during the event via Twitter. Just use the hashtag #UNENutritionSymposium. And make sure to follow us on Twitter too – @une_nutrition.
Contact hours
The Symposium will also offer an option to request 'contact hours' for those that need them for Continuing Education. If you would like a certificate of participation to verify contact hours for continuing education requirements, please contact either Anne-Marie Davee or Ellie Dodge.
Register today
Event registration link: https://www.eventbrite.com/e/1st-annual-university-of-new-england-nutrition-symposium-tickets-43708286662
---
Interested in getting your Master's in Applied Nutrition? Let's chat! Give us a call at 1(855) 751-4447 or reach out via email at nutrition@une.edu.
Ready to apply? fill out an online application today at online.une.edu/gateway-portal-page – we look forward to hearing from you!
More Applied Nutrition program information: go.une.edu/nutrition
Tags:
Applied Nutrition | Graduate Programs in Applied Nutrition | Master of Science in Applied Nutrition
---