Earn your Master of Healthcare Administration from New England's premier health sciences university and Maine's #1 provider of health professionals.
Healthcare professionals with a Master of Healthcare Administration are in high demand. Modern healthcare demands innovative health leaders who have advanced business skills and management expertise – healthcare professionals who are equipped to propel the industry and their organization forward.
With a ten-year career growth estimated to reach 20% by 2026,* the healthcare industry is facing an immediate need for competent professionals qualified to organize key healthcare resources, develop efficient strategies for administrative success, and examine the latest technologies to transform quality and access to care for their communities.
At UNE, you are matched with industry-leading faculty who teach you relevant skills you can apply to your organization. The Master of Healthcare Administration is delivered in a 100% online format suited to meet the needs of your busy schedule.
This graduate-level program cultivates career-ready professionals prepared to advance the healthcare industry and shape its future through learning innovative technologies, health policy and regulation, and healthcare planning and management.
Click here for the Master of Healthcare Administration curriculum.
*Bureau of Labor Statistics, ​2019 Occupational Outlook Handbook​: "Medical and Health Services Managers
The Master of Healthcare Administration program offers global education positioned to develop industry professionals into future health innovators through scholarly research, collaborative learning, and career training- enabling graduates to shape all sectors of the healthcare industry and lead solutions to current challenges facing the field.
Create plans and procedures that directly address modern healthcare challenges in managing diverse healthcare organizations
Conceptualize healthcare management strategies utilizing core business and organizational management skills
Generate healthcare administrative policies appropriate at different organizational levels, guided by required processes and methods of community and stakeholder engagement
Synthesize proven leadership methods for effectively developing, communicating with, and motivating diverse audiences
Healthcare Planning
Assess healthcare strategic planning problems to develop comprehensive and practical solutions
Evaluate strategies for increasing the reliability of healthcare processes, including using technology
Healthcare Management
Demonstrate mastery of leadership skills and tactics required of healthcare managers and executives in the current healthcare environment
Evaluate operational and capital budgets for a health care facility, including sources of capital funding and costs, and create budget action plans informed by those analyses
Healthcare Policy
Evaluate significant policies that have shaped the American healthcare system
Critically evaluate healthcare interests and goals to analyze, formulate, and advocate for policies that advance human rights and social, economic, and environmental justice
Healthcare Leadership
Demonstrate how to promote quality and a culture of patient safety
Demonstrate effective methods for developing and motivating diverse audiences within healthcare settings to improve organizational agility
HIMSS Approved Education Partner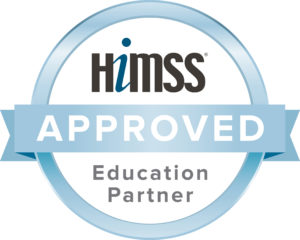 The University of New England is proud to join an exclusive group of organizations authorized to offer HIMSS-approved healthcare education and training programs. In earning the designation, UNE has demonstrated educational development that meets rigorous standards of quality established by HIMSS and prepares students for advanced learning of healthcare principles.
Not ready for a full master's degree commitment?

Consider earning your Graduate Certificate in Healthcare Administration. You can specialize in one of four areas: Emergency Management, Health Data Quality, Healthcare Management, or Health Policy, Law, and Compliance.

Each 12-credit-hour focus area can be completed in as few as 6 months and is 100% online, no campus visits required.

Accelerate or even change your career path. Students who successfully complete the graduate certificate can later "stack" earned credits into the Master of Healthcare Administration degree program. Reach out to a specialized Enrollment Counselor via email at healthcareadmin@une.edu or call (866) 722-5096 for more details on this opportunity.
If you have any questions about the coursework or the program requirements, please speak to one of our enrollment counselors at the email or phone number below.