Treasures & Tips at the UNE Library
How well do you know the UNE Library, and the many resources available there?
Recently, I visited the UNE Library website for the same reason that many of us do: to search for journal articles. I was pleased to find full-text access to most of the articles that I needed. This was not a big surprise; what really impressed me was the virtual treasure chest of resources that I found browsing other areas of the library. Below is a sampling of some of the more interesting and useful resources that I discovered, as well as a few helpful tips.
Library Help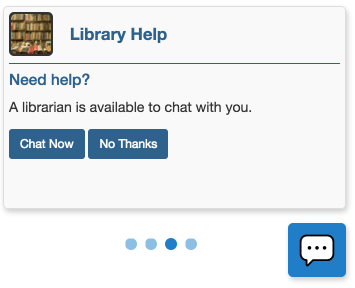 First is the wonderful "Library Help" live chat function, shown here:
When I wasn't able to find a few titles in my initial search, I posted my question to Library Help. Within minutes of submitting my help request, Bobby, one of the research & teaching librarians, responded with detailed instructions that helped me locate the articles using a different search technique. Having such easy access to the library's skilled and knowledgeable staff, including one member who is dedicated to the online programs, is an invaluable service to users who might be intimidated by the library or discouraged when they don't quickly find what they are looking for. If the live chat service is temporarily unavailable, the library also provides help via email or phone at Ask a Librarian.
Read more: Learning efficiently: 6 steps to success in your online graduate education
Database Collection
Another great find is the impressive diversity of resources available in the library's database collection . While many people might expect to see widely known databases for academic and technical publications such as PubMed, JStor and ERIC, the collection includes over 250 databases, with many special-interest resources and sites relevant to a general audience. Here are a few that piqued my interest (note: you must be logged into your UNE Nor'Easter user account to view):
While there are numerous other library resources not described here, I will leave you with three helpful tips that I learned from Cadence, UNE's online research & teaching librarian.
If you use Google Scholar as a research tool, you can add a setting that will link to the UNE Library. In Google Scholar, go to <<settings>> by clicking on the gear icon, select <<library links>>, type "University of New England" into the text box, and select this campus (you can also select World Cat).
Contact the library for help setting up RSS feeds or alerts to your email to automatically get the latest publications (useful for faculty who wish to post the most current resources in their Announcements)
Visit the Frequently Asked Questions (FAQ) for a wealth of easy-access information about the library services
For more online education insider tips and guides, subscribe today!
Tags:
library
---