UNE earns MONEY's Best Colleges Award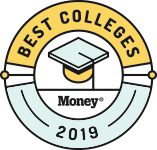 Choosing a college is one of the most important financial decisions families face. College represents a large up-front expense, but where you go to college can also significantly affect your salary for years to come.
MONEY's annual college rankings examine dozens of data points to measure the costs and payoffs of thousands of schools. Here at UNE, we are proud to be included among an elite number of U.S. colleges and universities that deliver the most value.
Choosing a college
MONEY's Best Colleges list represents a mix of colleges and universities across several diverse categories: public, private, large, small, well-known, and little-known. The 705 colleges that made MONEY's list were singled out from among the approximately 2,000 four-year colleges in the United States. Each and every college and university on the list provides an above-average value for students.
Click here for MONEY's Best Colleges, a full list of the highest-ranked colleges.
MONEY's Best Colleges – methodology overview
Have a graduation rate that was at or above the median for its institutional category (public or private).
Have at least 500 students.
Have a solid financial overview as assessed by the U.S. Department of Education or bond rating agencies.
Have a good comparative value, assessed by how well students at each school performed academically vs. what is expected of students with similar economic and academic backgrounds in the context of that college's mix of majors.
The remaining 705 colleges that passed these rigorous standards were ranked on 24 factors in three categories:
Educational quality
Affordability
Alumni success
Read MONEY's full methodology behind their new rankings. UNE is proud to be on this list. Choosing a college is a big decision. We are proud to be recognized for offering our students a great education at an affordable price that prepares them for rewarding careers.
---
Interested in joining our online student community and getting your graduate degree completely online, with no campus visit necessary? The sooner you apply, the sooner you hear back. Fill out an online application today at online.une.edu/gateway-portal-page!
Tags:
Awards | recognition
---