UNE Attends FNCE Food & Nutrition Conference & Expo

The University of New England Graduate Program in Applied Nutrition was pleased to exhibit at the Food & Nutrition Conference & Expo (FNCE), the world's largest annual meeting of food and nutrition professionals, on October 15-18 in Boston, MA. UNE attends FNCE annually. 
FNCE is hosted by the Academy of Nutrition and Dietetics, the world's largest charitable organization focused on food, nutrition and dietetics. FNCE provides a venue for people and organizations showcasing the latest information and innovations related to industry trends, academics, and research in food and nutrition sciences.
Continuing your Applied Nutrition education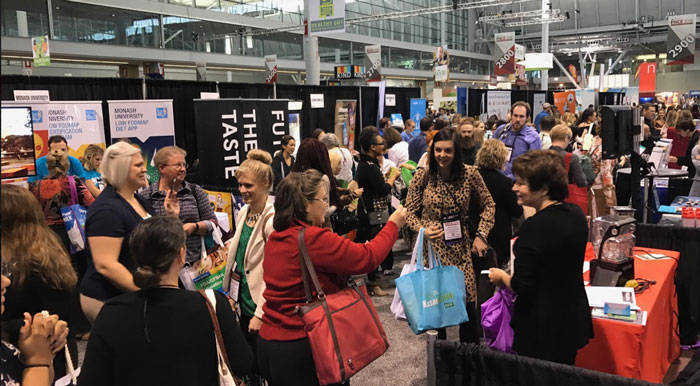 There is a great deal of value at FNCE in the continuing education aspect of the conference, and the Graduate Program in Applied Nutrition Program Manager was able to participate in several sessions of continuing education and industry networking during the event.
In fact, the Academy's annual conference hosted more than 130 research presentations, educational sessions, lectures, briefings, panel discussions and live culinary demonstrations. The conference facilitates collaboration and networking and actively encourages participation among all attendees.
Keynote and other addresses were delivered by experts in the industry, including:
Academy President Lucille Beseler, MS, RDN, LDN, CDE, FAND
Barbara Corcoran, Opening Session
Juliet Funt, Member Showcase
Nancy Emerson Lombardo, President's Lecture
Kathleen Zelman, Cooper Memorial Lecture
Porter Gale, Closing Session
UNE attends FNCE – A focus on minimal processing for maximum health
All of the exhibitors seemed to have a common theme – a focus on healthy eating and minimal processing.
Exhibitors at the event included more than 350 companies that ranged from small, locally-focused food product companies to large multinational corporations, media outlets, and federal policymaking entities.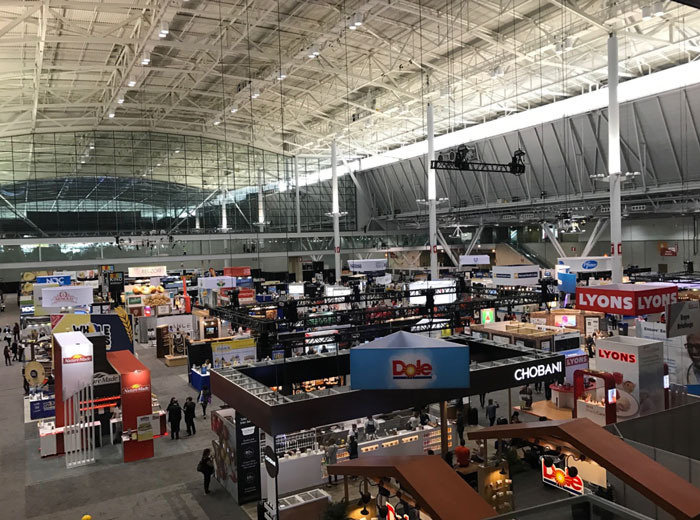 FNCE's extensive exhibition hall featured well-known organizations, including:
American Heart Association
Campbell Soup Company
Chobani
Dannon Company
Institute of Child Nutrition
Integrative and Functional Nutrition Academy
Journal of the Academy of Nutrition and Dietetics
Kellogg Company
Morningstar Farms
National Dairy Council
Nestlé
Ocean Spray
USDA Center for Nutrition Policy & Promotion
Broad industry appeal
The FNCE Annual Conference continues to expand, and each year features a wider audience of dietitians and nutrition professionals, as well as those in the food and nutrition industry. This year, more than 10,000 attendees participated in FNCE, including:
Nutrition science researchers
Policy makers
Healthcare providers
Dietitians
Sports, health, and nutrition professionals
Chefs
Students
Valuable connections and considerable interest
In the exhibition hall, University of New England staff connected with many industry professionals and potential students interested in the online Master of Science in Applied Nutrition, and addressed several questions, including those on the topics of the capstone internship and the acceptability of transfer credits.
There was also considerable interest around the business aspect of the Graduate Programs in Applied Nutrition at UNE – particularly from industry consultants already established in the field of nutrition looking to further their education regarding operation of their nutrition-centric businesses.
Moving forward
It's an exciting time to get an advanced degree in Applied Nutrition. For more information on how to advance your career by earning your Master of Science in Applied Nutrition, email nutrition@une.edu or call (855) 751-4447 to speak to a specialized Applied Nutrition enrollment counselor.
Tags:
Applied Nutrition | conference | trade shows
---