5 Secrets of a Successful Online Student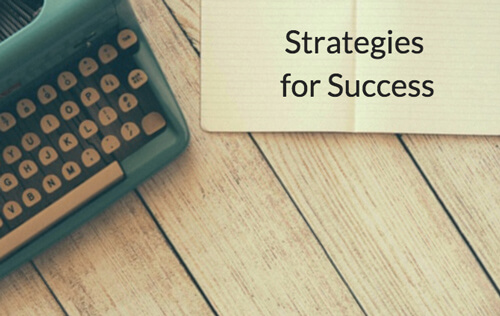 Getting an advanced degree online requires drive… and plenty of discipline. The majority of UNE Online graduate students have a full-time job in addition to their schoolwork, and so purposefully have to carve out a space to get coursework done. Taking online courses requires time management. With in-person classes, you have to actually drive to a classroom and sit there next to other students and your instructor. With online education, there are no physical location requirements.
Online school helps you maximize your time. Most likely, that's why you chose this path, or are at least seriously considering it. You can fit your education in between other important obligations, but you also know you have to prioritize.
The following are five secrets of a successful online student:
Develop a time management plan and follow it
Managing your time efficiently is absolutely crucial for online graduate students, as online classes can take a considerable amount of time. Most UNE Online students have full-time jobs in addition to their coursework, so you can't afford to be inefficient with your time.
As a best-practices guideline, we recommend planning for an estimated 15-20 hours per week to dedicate to your classwork. Some weeks may require more time, some weeks could be a lighter workload.
We recommend logging into your course every single day for a minimum of 90 minutes. If you make some progress every day, you'll avoid time crunches.
Student Support Specialists recommend actually mapping out your week and predetermining when exactly you'll study. 20 hours is a shockingly large amount of time when you see it mapped out on a calendar.
Consider your week. The level of detail you provide should be based on your own experience of what works best for you. Your plan should include regular intervals of study, work, family, and personal time. To create a schedule, you can use Word, Excel, Google Docs, Sheets, your phone calendar, or a daily planner – whatever fits your life. We use a super simple Word Doc. Click here to download the Word Doc that we use: Time Management Plan
The point is to have a visual of your time.
Print it out. Put it somewhere you'll see it. Take ten minutes and input the times in your phone's calendar as a series of recurring meetings so your time is blocked out automatically.
Follow and refine. Follow your plan over the next several days. If you find it difficult to stick to your plan, identify the trouble areas, modify the plan, and see if that will help you manage your time. A few modifications as you move forward are perfectly fine. However, if you regularly modify your plan, that might be a warning sign of a larger problem.
What if it's not working? If you find that your time management plan isn't working for you, contact your Student Support Specialist to discuss ways to modify your plan. They are experienced resources, full of wisdom and trained to help you succeed in your online program. Take advantage of their experience in helping lots of other online students overcome barriers. They will work with you to develop strategies that can help you get back in control of your time.
Hack your habits
Many students find that the more routine and ritualized they make their learning, the better. Develop habits around your study time – sit in a particular spot each time you do homework, make yourself a particular kind of tea, or reserve a particular time of day that works for you to focus.
Andrea Libman, one of our seasoned Student Support Specialists, put together four useful tips on staying on track in your online course. It's one of our most popular blog posts on the Vision Blog, so you may find useful too.
Be disciplined with your computer
Maintain concentration. As an online graduate student, all of your work is on your computer. Are you sabotaging yourself with multiple attention-draining devices around you, multiple open programs, and tabs open? How often have you checked your email in the last hour? These are real distractions that can derail your focus.
There's abundant research on how we, as human beings, are terrible multi-taskers. Sure, some job functions require that we multi-task, but those jobs are generally not deep-thinking pursuits. As a graduate student, you need to be able to dive deep into the scholarly material and synthesize it. You need to process information and deeply understand the concepts.
If you try to multi-task, you will work longer on your projects, and the end product will not be the very best you can do. To absorb the information fully, concentrate only on that one thing, and keep distractions out. When we have more than one focus, concepts and ideas also don't fully translate from short term memory to long term memory. So all of the studying you do in the midst of other tasks is not nearly as effective as the studying you do to exclusion of all other things.
Nearly-impossible best practice: only keep the tabs open to your current task. Facebook, Twitter, Instagram, stock tickers, sports scores, and work email are all non-essential to your graduate work. So close them out. How many do you have open at this very minute?
Commit to yourself that you will actively work on becoming more efficient and doing more work in less time by NOT multi-tasking. Go all in.
Establish a work zone
Your study area needs to be separate and distinct from the rest of your life. Distractions are the enemy of productivity. So whether your work area is stationary – in a particular area of the house – or mobile – maybe the library or a local coffee shop – separate the two. Think of it as Church and State. School and Life. Keep them distinct and separate. You'll also have to communicate this to your people, too. You have your work life, home life, and now you will have school life.
Quick tips for a healthy work area: clear your area of clutter, put your phone further than arm's length away, banish cute pets from the study zone, practice refocusing quickly after a distraction, use earplugs. Noise canceling over-the-ear headphones can also be a game changer. They signal that you're busy while also filtering out auditory distractions. If there's chaos all around you, Coffitivity is another powerful tool in the focusing arsenal.
No excuses
This is your journey. As a college committed to being 100% student-centric, we're here to help you every step of the way. But it's up to you to really own your learning process and succeed.
You've got this.
---
Interested in pursuing your graduate degree 100% online?  Get in touch!  You can reach an Enrollment Counselor at 1 (855) 325-0896 or via email owladmissions@une.edu. 
Or, fill out an online application now at online.une.edu/gateway-portal-page. We look forward to hearing from you!
Tags:
CGPS | Online Graduate School | Online Learning | UNE Online
---