Alumni Spotlight: Tyler Blankenship – Applied Nutrition Program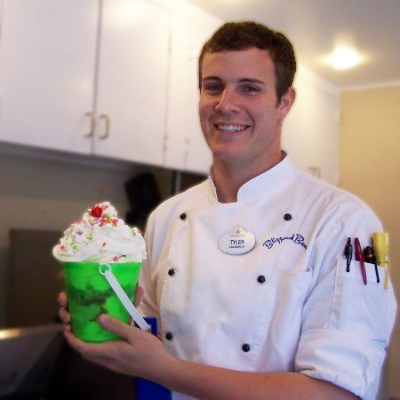 Tyler Blankenship, Dietetic Technician, Registered (DTR), from Orlando, Florida, is a student in the Master of Science in Applied Nutrition program.
Tyler's background includes working as a chef at Walt Disney World, as a restaurant nutritionist at Sea World and also in nutrition management at a long term care facility.
From Chef to Dietary Management
Prior to beginning his master's degree with UNE, Tyler flexed his culinary chops working as both a sous chef and nutritionist at Walt Disney World in Orlando. Armed with degrees in culinary arts and culinary nutrition from Johnson & Wales University, Tyler cooked at Four Star, Five Diamond restaurants at Disney.
With a developing interest in nutrition, he moved on to a nutritionist position for the restaurants at Sea World. In this role, he provided nutritional and allergy analysis for each recipe offered on the property, as well as developed training materials on how staff could respond to and address concerns about allergies.
After that, Tyler transitioned into a new role with higher growth potential, working as a Dietary Manager for a long term care facility. He oversaw food preparation, production, and service, as well as trained all food service employees. Recently, Tyler was promoted to District Manager where he is responsible for overseeing the dietary departments of 10 long term care facilities in the Orlando area.
Choosing UNE
Part of the reason Tyler chose to pursue a master's degree was for personal fulfillment. He enjoys the field of nutrition, loves learning, and wants to take the next step. Tyler also commented that earning his master's degree might "open me up to a different track within the company, perhaps a higher level position that would mix clinical experience with my food service background."
When beginning the search for a degree program, Tyler considered a few different schools and even enrolled in another graduate program, but ultimately withdrew as he felt the other program was not a good fit. He discovered UNE's Master of Science in Applied Nutrition program via an internet search. After investigating the curriculum, he determined that the UNE courses would align better with his goals, so he decided to apply. And he believes that he made the right decision by choosing UNE.
Online Format = Success
When asked about his experience at UNE so far, Tyler sings the praises of the Applied Nutrition program. He especially appreciates the student support that is offered. "When I email a question, I get a response within 20-40 minutes. Having such accessible support makes me and even more successful student."
Tyler says pursuing the master's degree online is a great fit for his life as a busy working professional. "I can do school work on my own time," he explained. He took a couple of his undergraduate classes online, so he was mentally prepared for the format. He acknowledged that carving out the time to study can be a challenge, but planning ahead helps. Overall, Tyler is enjoying his courses and deepening his understanding of the nutrition field.
---
The Master of Science in Applied Nutrition program at UNE is currently accepting applications. For more information, please go to online.une.edu/applied-nutrition. Or, for in-depth questions about the program, feel free to call (855) 751-4447 or email an enrollment counselor at nutrition@une.edu.
Tags:
12 Days of Online Learning | Applied Nutrition | Master of Science in Applied Nutrition Alumni | Online Learning | Student Spotlight
---