Student Spotlight: Kenneth Palmer, MSW Program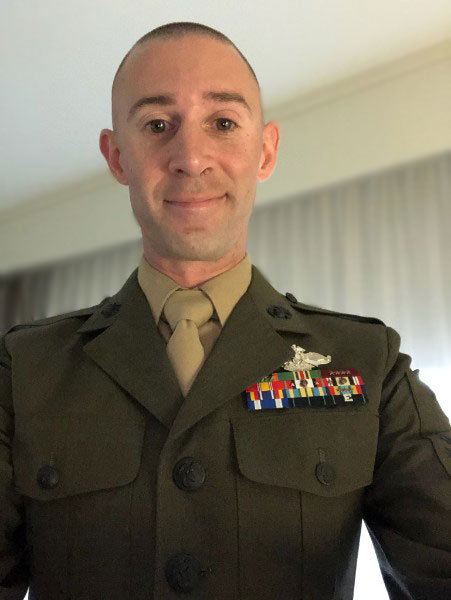 Kenneth Palmer is a former Navy Independent Duty Corpsman who is using the GI Bill and Yellow Ribbon status to change careers. Here, he talks about his experience with UNE Online, the community among MSW students, and how he intends to move forward in his career as a clinical social worker focused on trauma treatment.
Can you tell us a little bit about yourself, and what encouraged you to pursue your Master of Social Work?
I was in Navy medicine for 15 years, During that time I deployed to Iraq once, twice to Afghanistan, and then deployed to Sicily. For the majority of my career, I was an Independent Duty Corpsman. An Independent Duty Corpsman functions similarly to a Physician Assistant. We can diagnose, treat, perform procedures, and write prescriptions for those in need – we see our own patients and function without the direct supervision of a physician. My practice was focused on trauma and family medicine.
I loved taking care of active-duty personnel, and I developed a keen interest in mental health, so I felt that going to graduate school to become a clinical social worker made sense. My local area has four large military bases within an hour's drive – so when I left the Navy I decided that I would like to focus on trauma treatment with combat veterans who have PTSD, first responders, and victims of physical/sexual assault.
Where are you in the program right now?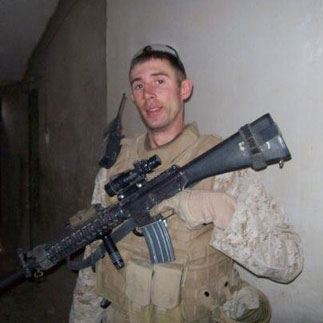 I've just finished the didactic part of the program, and I'll be starting my clinical field placement in the winter.
Are you using your military benefits here at UNE Online?
Yes – the GI Bill has completely covered my tuition here. Shawn Hardy, the VA School Certifying Official, has been fantastic to work with. The benefits are easy to use, and I even get reminder emails.
Student Financial Services has been extremely easy to work with. They helped me make sure that my Yellow Ribbon status was in effect, and overall made the process for using the GI Bill seamless.
Why did you choose UNE Online for your graduate degree?
I choose UNE because it's highly accredited – both the University through NECHE and the MSW program through CSWE. I also valued the way the MSW program was structured, and how the degree process puts the student largely in control of how quickly they complete their degree.
I'd also taken a class with UNE Online before, so I knew the courses were of high quality. I needed a pre-med science prerequisite, so I took Biology I through the SPHP program, and I had a very good experience.
Did you get to know other people in the program, as a part of a community while you were going through?
Yes, and that's been one of the things that have been really great about the program. The classes have allowed us to interact a lot and connect well, so I've become really close with several students, especially a few I met early on in the program.
We regularly check in on each other, even when we're not in the same classes. We're at different points in our academic journeys, so we definitely plan to travel to each other's graduations, too.
What type of trauma therapy are you interested in pursuing?
I just finished the process to be certified as an equine-assisted psychotherapist, and am waiting on my license for that. In equine-assisted therapy, you have an equine specialist and a mental health specialist working together.
The unique thing about horses is that many clients who can't progress traditionally, respond to equine therapy. There are many veterans who can't talk openly about what they went through, and we are able to use the horse as an agent of change to help the individual grow and heal.
I'm also training for EMDR, which is Eye Movement Desensitization and Reprocessing. It is a specific type of trauma therapy that incorporates eye movements to help people process trauma. It's a very structured treatment protocol, and the literature supports that it can be very effective, especially for trauma.
What's been your biggest takeaway from the program? Where have you found the most value so far?
For me, one thing that has really stood out in the program was that I've really enjoyed being able to tailor my degree to what I would like to focus on after graduation. I'm heavily interested in trauma, so I took electives that will enhance my career goals.
What would you want a potential student to know before starting this program?
You should understand that being in a graduate program is a time commitment. You will have a lot of papers to write, research to do, and media to get through, so you need to plan accordingly to be able to handle it. You'll need support, and you'll need time to get your work done.
Second, make sure you communicate with your professors. I've found all of my instructors to be very approachable. Take the opportunity to build a relationship between you and your professor.
Completing an MSW degree is absolutely doable – but you need to go into it knowing what to expect.
Learn more with our online Master of Social Work program guide
Tags:
Master of Social Work | Master of Social Work Spotlight | MSW
---