Student Spotlight: Katy Krings, MPH – Public Health Program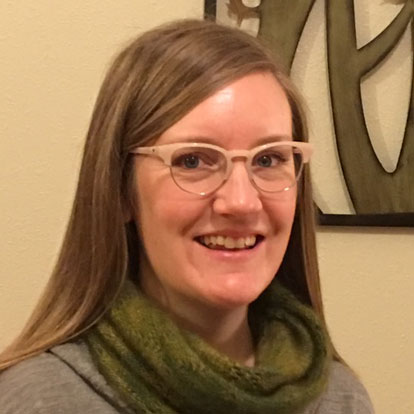 Katy Krings is in her final semester of the MPH program and is an excellent example of how online education can be used as a powerful tool to reach qualified individuals who wouldn't otherwise have access to higher education.
Originally from Wisconsin, Katy now lives and works as a public health nurse in rural Southwest Alaska. In fact, the area in which Katy works is so remote that her patients are not accessible by road or boat for much of the year – she has to fly between these arctic villages to provide her patients with care and public health education.
Now that's going the extra mile.
Some background on Katy and her career
Katy discovered Public Health nursing after earning her undergraduate degree in nursing and completing a nursing rotation in Denver, Colorado. In researching career opportunities, she found that Alaska hires many new nursing graduates, giving them the opportunity to get real-life experience right away. So because of the plentiful opportunities there, she made the move to the remote community of Bethel, Alaska five and a half years ago, and she's been a public health nurse there ever since.
Practicing public health in Alaska
Public health nursing in rural Alaska is widely varied. It can include anything from emergency preparedness and immunizations to family planning. Some of the more prevalent health topics that are commonly managed are tuberculosis case management, STI testing, and health education.
Katy works in a health center 400 air miles from Anchorage that services 48 small Alaska Native villages. There is not a lot of tourism, and land/water access is limited, so Katy and her colleagues need to fly into the communities that they serve. Some villages can be connected by ice road in the winter and by boat in the summer, but most nurses travel by plane.
Learning online vs. a traditional classroom setting – a richer experience
In her experience, Katy has found that online and traditional experiences are remarkably similar. As a matter of fact, she feels that in-person classes really have no benefit over an online format – especially if the in-person class is held in a large, lecture-type classroom format.
One benefit of being online is that the format engages people who wouldn't typically participate in class. In an online classroom, there's no "back row." Every student is required to communicate – and when a broader section of the student population shares opinions and ideas, it creates more diversity and makes for a richer classroom experience.
Achieving balance for success
In order to balance work, school, and life, a good portion of each weekend is dedicated to schoolwork. Katy also puts a tremendous effort into staying self-motivated, as she has found that it's one of the key aspects of being successful as an online student.
Why specifically the UNE Online MPH program?
Originally, Katy found UNE Online by doing a simple web search with some specific parameters. She knew her program needed to be fully online with an entirely asynchronous format. UNE Online was not the only program to fit those requirements, so the tipping point for Katy was the number of good reviews from students that she found. Taking into consideration other UNE students' experiences are what led her to look into the UNE MPH program more seriously, and ultimately apply to the program.
Overall program highlights
Katy found the MPH program to be very flexible, especially given her unique situation of being located so remotely. She felt that she got to know her Student Support Specialists Lisa and Elizabeth, and whenever she had a question, they both were immediately responsive.
Course capstone – a very practical Practicum topic
Since the area of Alaska that Katy works in is so remote, she relies on training community members to do common health care tasks such as observing patients taking their medications, and observing them completing their prescribed tuberculosis therapy.
Katy found that the Directly Observed Therapy (DOT) Manual currently in use needed a more visual supplement so she decided to address the issue.
For her Practicum, she created a brand new, more visually-based and concise DOT Training Video that is now being used as a supplement to the current DOT manual.
Playing favorites
The Practicum and the Capstone portions of the curriculum stood out as Katy's favorite experiences in her MPH program.  She felt that those two courses, in particular, were a chance to take everything she had learned in her other courses, and directly apply that learning to real life experiences. "It all comes together," Katy says.
Well prepared for certification and real life
Using the knowledge gained in her online classes, Katy felt very well prepared to take the Certified in Public Health (CPH) exam, which covers the five core areas of knowledge offered in CEPH-accredited schools. In fact, once she had completed all of her core classes – a full semester before graduation – she took the CPH exam and passed with flying colors!
Public health career opportunities
Katy feels that after more than five years of working in the field, pursuing higher education is another way to serve her community in a broader way.  She feels that having her MPH will very likely lead to more opportunities for growth, and will put her in a better position to apply for a management position.
~~~
Thank you, Katy for sharing your remarkable story – and for your commitment to serving your community!
-MG
---
Interested in applying to UNE Online? The sooner you apply, the sooner you hear back. Fill out an online application today at online.une.edu/gateway-portal-page!
Tags:
careers | Graduate Programs in Public Health | Master of Public Health Spotlight | MPH | MPH Alumni Spotlight | MPH Student Spotlight | Student Spotlight | student success
---
One response to "Student Spotlight: Katy Krings, MPH – Public Health Program"