Four tips for writing outstanding goal statements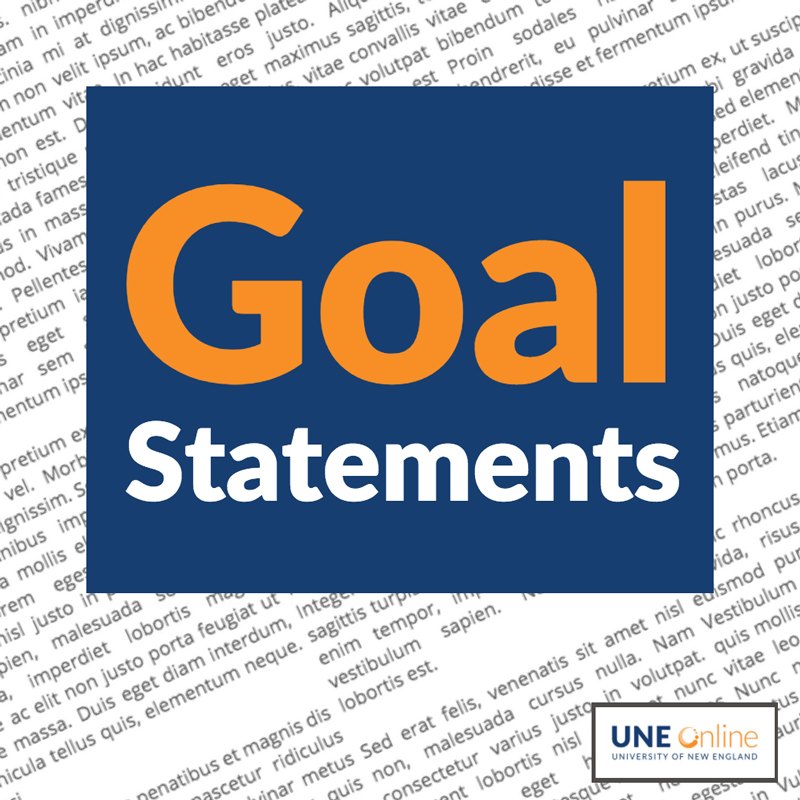 Goal statements are an essential part of the graduate school application process here at UNE Online. Developing your goal statement can be seen as intimidating, but it shouldn't be. It's best viewed as an opportunity.
We spoke to Nicole Lindsay, the Director of Online Admissions and asked her what makes a great goal statement for graduate school. We talked about what the admissions committee is looking for and how applicants can put their best foot forward. Here's what she had to say…
Why does UNE Online have goal statements?
There are many different purposes for the goal statement, dependent on the program. In general, the goal statement is a way for the admissions committee to gauge an applicant's writing ability. It's also a way for us to understand the goals and background of the applicant, and what they are looking to do with their degree.
The goal statement is also a way to bring a little color and life to an otherwise black and white application. The admissions committee understands that simply reviewing transcripts does not give us a holistic view of the applicant. The goal statements are the applicant's opportunity to highlight their strengths or address issues that may be aren't otherwise reflected in other materials within their application.
Learn more about our online graduate programs
What type of applicants need to write a goal statement?
Every applicant across all of the matriculated graduate school programs at UNE Online will have some kind of goal statement to complete during the application process.
Every program has a different format for their required goal statement. One program requires a formal essay-style statement that addresses multiple topics and questions that is saved as a document and then uploaded as part of their application. Other programs have individual short-answer questions that can be completed directly within the application portal.
Tip #1: Critical thinking is key
Read the prompt. Really read it, and thoughtfully answer the questions and address the topics that are being asked of you. Be thorough. This is not the time to be first degree. Really dig into the prompts and think critically about what is really being asked of you. Think of your answers as an opportunity to provide a little more context to your application.
Your goal statements are a great way to help the admissions committee see how amazing you are, and what a great fit you would be for the program. UNE Online is a 100% online college and we don't require an in-person interview, so the goal statement is your time to shine.
Think about your goal statement through the lens of the admissions committee. Review the prompts thoroughly. Some are very specific and are looking for a paragraph about a specific topic. Other questions are more open-ended and leave room for interpretation. Support your prompts as thoroughly as possible with information about why the admissions committee should choose to admit you as a student.
Tip #2: Pay attention to word count
Each program has its own criteria for length and content. Your goal statement may be 300-500 words or it may be 300 words per question. Regardless of circumstance, word count is clearly shown in each instance. If a prompt tells you 300-500 words, make sure your response is in that range.
It's acceptable to go a little bit over the stated word count, but you should never under any circumstances go under the minimum word limit. One sentence is not going to help your case as much as it could, especially when this is all the admissions committee sees. When they get a one-sentence reply, it doesn't inspire them to look at your application favorably.
Read more: 4 application mistakes to avoid – and what you should do instead
Tip #3: Spelling counts
Not only does spelling definitely count, so does good grammar and correct syntax. You're applying for a master's-level or a doctorate-level program and the admissions committee expects that level of writing. In the UNE Online application portal there are opportunities to compose your answer directly in the portal, but just because you can, doesn't mean that you should.
We recommend that you use a word processing tool to compose your answer before you paste it into the application portal. Make full use of the spell check and grammar check tools. Use the word count function to make sure you're within the prompt's parameters. After you've proofread your answer (and ideally after you've had someone else take a look for errors and check for quality) then paste in your answer.
Using a word processing tool will help ensure that you have addressed any potential spelling mistakes or grammatical errors and will help you put your best foot forward.
Tip #4: Highlight your strengths
The goal statement is your chance to add your personality and highlight your strengths as a graduate school applicant. It is also an opportunity to show the admissions committee a reason to admit you into the program even though you may be a bit shy of the recommended admissions guidelines.
Even though the prompt might not explicitly state it, use your goal statement to address any of those potential gray areas or weaknesses that the committee might see in your transcript or application. Give an explanation of what's changed, especially if your circumstances have to do with a specific situation.
It's similar to applying for a job. You have your resume/CV and you have your cover letter. Your cover letter is where you tell your story and you highlight your skills that would be relevant to this particular job. Similarly, your goal statement is your chance within the application process to help the admissions committee see you more holistically, and highlight some additional strengths that the admissions committee wouldn't otherwise see.
---
Have additional questions about the admissions process? Reach out! We have Enrollment Counselors for every program available Monday through Friday, 8am to 5 pm and they would be happy to speak with you. Via email owladmissions@une.edu or over the phone: (855) 325-0896.
Want to learn more about our 100% online graduate programs?
Ready to apply? Go to online.une.edu/gateway-portal-page to start your application today!
Tags:
Admissions | UNE Online
---