New England HIMSS 2018 Maine Conference Hosted by UNE Online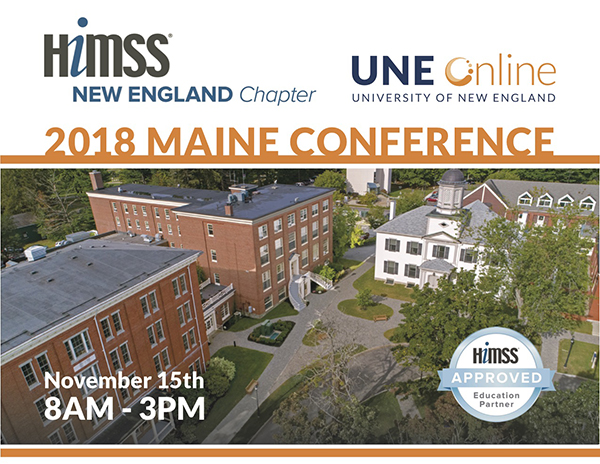 UNE Online is proud to host the 2018 Maine Conference, presented by the New England Chapter of HIMSS this November.
About HIMSS, New England Chapter
The New England Chapter of HIMSS is proud to have one of the largest regional membership bases with participants representing all six New England states. As of June 2018, this chapter welcomed 3,325 members.
Chief among the missions the chapter is pursuing is to foster professional growth, relationships, knowledge, and collaboration among healthcare information management professionals throughout the New England territory. Additionally, the organization is committed towards developing educational programs, networking opportunities and provider/patient events like the 2018 Maine Conference to meet the ever-changing interests of its chapter members.
National Vision, Local Focus
The New England HIMSS Chapter represents the New England region for HIMSS. This region includes all of the New England states: Connecticut, Maine, Massachusetts, New Hampshire, Rhode Island and Vermont. In pursuing the vision and mission of both HIMSS National and NEHIMSS, our chapter plans programs and networking events to help promote education and an open dialogue of our members and the health care community regarding various topics around information technology.
2018 Maine Conference – Event Details
The 2018 Maine Conference will gather eight industry experts and healthcare information technology professionals from across New England. Each presenter will share their expertise and experience and how their current work supports the transformation of healthcare through technology.
Discussion focus areas include:
Population Health
Value-based Reimbursement
Predictive Analytics and Care Coordination
Throughout this day-long event, attendees will have the opportunity to connect with regional professionals, engage in meaningful dialogue surrounding professional opportunities, and discover more about developing trends in the health technology industry. New England HIMSS will provide two separate panel discussions for guests to learn more and have individual questions answered.
Health Informatics at UNE Online
As a result of meeting HIMSS's rigorous standards for quality health IT and healthcare education, the University of New England has been named as a HIMSS Approved Education Partner (AEP), joining an exclusive group of organizations authorized to offer HIMSS-approved healthcare and health information technology education.
"HIMSS is pleased to welcome University of New England as an Approved Education Partner. By earning this designation, the organization has demonstrated that their educational development activities meet the rigorous standards for quality as identified by HIMSS. With the AEP designation, the University of New England establishes itself apart from others."
– Mara L. Daiker, Senior Manager, Professional Development, HIMSS
Graduate Programs in Health Informatics | Health Informatics | UNE Online
---