Dr. Nan Solomons Awarded Mini-Grant for Health Informatics Research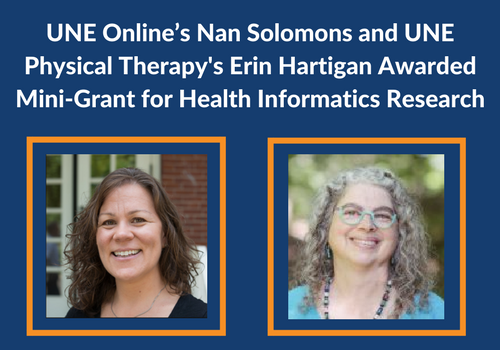 Dr. Nan Solomons, Health Informatics Practicum Coordinator, and Dr. Erin Hartigan, Associate Professor of Physical Therapy, were recently awarded a mini-grant by the University of New England's Office of Sponsored Programs, for health informatics research.
The UNE mini-grant program provides funding to support faculty research and scholarship at the University of New England.
Nan, along with co-principal investigator, Dr. Erin Hartigan, Associate Professor in the Department of Physical Therapy, will use this grant to evaluate the following question: What are the barriers and facilitators to the adoption of and adherence to a criterion‐based rehabilitation progression program post Anterior Cruciate Ligament (ACL) reconstruction and subsequent effects on outcomes?
In short, Nan and Erin will look at how physical therapists (PTs) adherence to best practices may affect patients' (athletes) return to sport.
To give some background on how this grant proposal came to be, Nan explained that her co-investigator Erin is a physical therapist as well as a lifelong athlete. As such, Erin is very interested in the rate at which athletes with an ACL injury return to sport. Nan and Erin will work with a local physical therapy practice to answer questions like, how quickly do patients with ACL injuries return to sport? Is the care plan tied to health outcomes?
Knowing that the way physical therapists utilize Electronic Medical Records (EMR) in patient care is a crucial piece of the puzzle, Erin recruited Nan to join the project. Nan's background in health informatics and specifically EMR best practices and quality improvement will enable the team to evaluate the way the physical therapists at the practice use the EMR data to develop the plan of care for patients recovering from ACL surgery.
Nan will also analyze and build out pieces of the EMR that might be missing that prevents physical therapists from increasing the quality of their care plans post-ACL reconstruction. To explain how an EMR system might be lacking, Nan drew the comparison of working with an outdated EMR system as being similar to only having access to Notepad on your computer instead of Microsoft Word. "For example, imagine you had only Notepad on your computer and not Microsoft Word. You wouldn't be able to bold any text or create bullet points or numbered lists, so you wouldn't get the results you want." Part of the research will involve analyzing gaps in the current EMR system that could be affecting patient care and outcomes.
Nan explained that the mini-grant will allow them to create a "proof of concept" through conducting the foundational research to see what needs to be figured out. Success with the mini-grant lays the groundwork to potentially later apply for future funding to conduct a more thorough investigation. Next month, the investigators will be presenting a poster on their preliminary findings at the Center on Health Services Training and Research (CoHSTAR) Conference in Boston.
---
For more details on the graduate programs in Health Informatics at UNE, we invite you to visit our website whatishealthinformatics.com, give us a call at 1(855)751-4445 or email an enrollment counselor at informatics@une.edu.
Or, fill out an online application now at online.une.edu/gateway-portal-page. We look forward to hearing from you!
Tags:
Graduate Certificate in Public Health | Graduate Programs in Public Health | Master of Public Health | MPH
---