Meet Our Team: Hayley Kinsella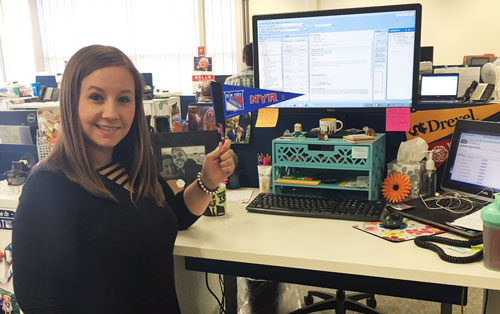 At UNE Online students are our top priority, and their success is what drives each and every one of us to do what we do.
We'd like to share a little bit about the people that are dedicated to making that happen every day.
Meet Hayley Kinsella
Hayley is a Senior Student Support Specialist who has been working at UNE for about three and a half years. Hayley's favorite part of her job is graduation, and finally meeting in person the students who she's worked with virtually throughout their student journey at UNE.
When she's not at work, Hayley can be found scouring the beach for sea glass, walking her golden retriever, or rooting for the New York Rangers.
What do you do at UNE Online?
I supervise all of our Student Support Specialists in the Applied Nutrition, Health Informatics, Education, and Public Health graduate programs, while also serving as the student support specialist for several Public Health students. In this role, I am the students' main point of contact at the university, essentially acting as their guide from the moment they are accepted through graduation. I make sure my students are enrolled in the right courses, and that they're on track to complete their degree.
Where are you from?
I'm from Poughkeepsie, New York, and I'm a New Yorker at heart. I always say certain words with a New York accent like coffee which I pronounce "cawfee."
What's your favorite dessert?
Rita's Italian Ice, specifically the Swedish Fish flavor with vanilla custard. It's a chain, but sadly there are no locations in Maine.
What's the best professional advice you've received?
Don't be afraid to speak up and share your voice or opinion.
What's the latest lesson you learned?
Go with your gut. It's always right.
What's on your desk?
What isn't on my desk? There's a lot of color! I'm a die-hard New York Rangers fan, so stuff like that, pictures of my dog, and my Treat Yo'self mug.
What's your favorite part about what you do here?
It's 100 percent building relationships with students and then meeting them in person at graduation to celebrate their achievements. I cry tears of joy every year. I'm not kidding. To meet people that you've known for two plus years virtually, and pick up in person like you've known each other forever is awesome.
If you could eat one thing for the rest of your life what would it be?
Probably sushi. Well, I might get sick of it. Okay, I'll go with avocado. I put it on everything.
What's your favorite book?
I'm into crime and thrillers. Gone Baby Gone and Mystic River by Dennis Lehane were two of my favorites.
What's your favorite thing about living in Maine?
Being one mile from the beach! I go sea glass hunting all the time. I make jewelry with sea glass, like necklaces and bracelets. I also make canvas seascapes.
What's your ideal Sunday?
Every Sunday in the summer I go sea glass hunting. My sea glass Instagram account is @kinspireme – I'm always hashtagging #seaglasssunday. In the winter when it's too cold to go outside I watch a lot of Law & Order SVU.
Do you have a secret talent?
I used to be really involved in musical theatre. I was in Godspell in high school. My dream is to star as Éponine in Les Misérables. It's a life goal.
---
Stay tuned for more of our team profiles, but in the meantime, click here to learn more about our Graduate Programs at UNE Online. 
Interested in applying to UNE Online? The sooner you apply, the sooner you hear back. Fill out an online application today at online.une.edu/gateway-portal-page!
Tags:
CGPS | student support | Student Support Spotlight
---