Meet Our Team: Alexandra Legere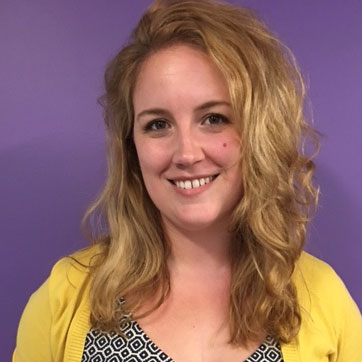 Alexandra Legere is an enrollment counselor. She also stars in UNE Online's Facebook Live videos answering your questions about UNE, the application process, and graduate school. As an enrollment counselor, Allie enjoys hearing the passion in potential student's voices and working with them as they take charge of their futures by applying to graduate school.
At UNE Online, students are our top priority, and their success is what drives each and every one of us to do what we do. We'd like to share a little bit about the people that are dedicated to making that happen every day.
What do you do at UNE Online?
I am an Enrollment Counselor for the Public Health, Applied Nutrition and Health Informatics graduate programs. This means I chat with potential applicants about the program to determine if it's a good fit for their goals. I then work with them to help them complete their applications.
Where are you from?
I'm from right here in Portland, Maine. I went to kindergarten through high school all on Stevens Avenue, the same street as the UNE campus. After high school, I left Maine for college in western New York. Then I moved to Stamford, Connecticut to work for Keep America Beautiful, a national community improvement non-profit. It was a great job, but I wanted to come back to Maine. Luckily, this job at UNE brought me back home.
What's your favorite dessert?
Well, I'm not a huge sweets person, but if I had to choose I'd go with maple sugar candy.
What's the best professional advice you've received?
My supervisor in my previous job told me to never be afraid to ask questions. I think that was really good advice.
What's the latest lesson you've learned?
Drink water. No matter what, you don't drink enough water.
What's on your desk?
I have a picture of my husband and I about a year after we met, a pencil holder in the shape of a large recycling bin from my old job (I used to present at a lot of recycling conferences), Mardi Gras beads from my best friend's wedding in New Orleans and a Leslie Knope 2012 button.
What's your favorite part about what you do here?
I love working with our applicants. They are so passionate and know what they want. They are going above and beyond and taking charge of their futures by going back to grad school. It's inspiring to see that. It's also really fun to send out the congratulations email to let students know they got into the program.
If you could eat one thing for the rest of your life what would it be?
I usually change up my meals a lot, so this is a hard question. If I had to eat one thing only it would probably be spaghetti or Annie's macaroni and cheese… really any type of pasta… it would definitely be pasta.
Favorite book?
Obviously Harry Potter. My cousin gave me a beautifully illustrated edition of the first book for Christmas. I also love Anne of Green Gables. Although I'm not sure how I feel about the new Netflix series based on it, Anne with an E. It's a little too dark for me.
What's your motto?
I don't have a motto, but I do have a saying. It's from the back of the sign when you're leaving DiMillo's Restaurant in Portland. It says "May you have fair winds and following seas."
What's your favorite thing about living in Maine?
Probably the ocean and my family. The majority of my family is here which is awesome. My mother grew up on one of the islands out in Casco Bay and so we have some family homes that we share out there. Growing up, I spent every summer on the island and would just roam around. It was a nice childhood.
What's your ideal Sunday?
One thing my husband I do sometimes is something we call "Sunday Adventures." A Sunday Adventure usually involves getting outside to parts of the state we haven't seen yet. If the weather is cold we might just do a drive and get a little lost and look at the scenery. That's my ideal Sunday.
---
Stay tuned for more of our team profiles!  In the meantime, click here to learn more about online graduate school at  UNE Online or fill out an online application now at online.une.edu/gateway-portal-page!
Tags:
Enrollment | enrollment counselor spotlight | Graduate Programs in Applied Nutrition | Graduate Programs in Health Informatics | Graduate Programs in Public Health
---