Alumni Spotlight: Jimmy Grattan, MSAN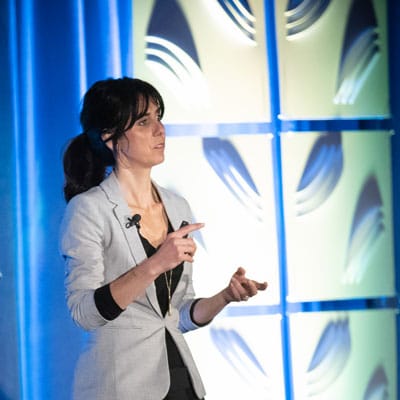 Jimmy Grattan earned her Master of Science in Applied Nutrition in order to advance her career and open up new options for herself in academia – specifically in the area of nutrition and sustainability. Here, she discusses her journey through the Applied Nutrition program and how it has aligned with her goals so far.
Can you tell us a little about yourself, and what encouraged you to pursue your master's degree in Applied Nutrition?
I started my career in advertising, where I quickly realized that I could pair my skills in marketing and communications with two of my other loves – food and healthy eating. So, I moved to California and became the marketing manager for a culinary arts college in Sonoma, California. From there I moved to North Carolina and accepted a similar position at Central Carolina Culinary Institute (a part of Central Carolina Community College), which is the home to one of the nation's oldest sustainable agriculture programs.
After that experience working with holistic nutrition, sustainability, and culinary arts, I took a position at Drexel, for one of the only Ph.D. degree-granting institutions that offers a culinary program in the country. There we focus a great deal on food sustainability, food waste, and food pathways, which I found fascinating.
From there I moved to my current role as the Executive Director of Sales & Marketing for a mission-driven organic personal and skincare company. It's a step away from food and nutrition, but the company I work for has a strong social commitment and a very solid sustainability plan. We are committed to offering products made from luxurious natural ingredients, made with responsible production practices, and offered at true cost. We are all about sustainability.
My entire career has been based on marketing and communications for sustainable companies. I've taught courses, but I've always had to be creative in the types of programs that I taught because, in academia, it's really hard to land a teaching job without a master's degree.
So I made the decision to go back to school and I found the UNE Online Applied Nutrition program.
Why did you choose UNE Online?
When I was working at Drexel, Dr. Herbert was the acting Vice Provost. He's a very strong and well-spoken leader. When he left to become the president of UNE, I took note and found that UNE Online had an Applied Nutrition master's program that was entirely online. It fit all of my needs.
I was excited about the idea of being able to advance my career in academia through the intersection of sustainability and nutrition offered by this master's program.
I fell in love with the school and the program – and I even visited! We were on a road trip to Canada, and stopped by the campus, which was beautiful! I wish I could have studied on campus, taking advantage of the oceans and wide open spaces.
Now that I've finished the program, I can say that in terms of the course content, I found it to be a nice balance between science-based nutrition courses, sustainability, and business.
How do you feel about your work-life balance?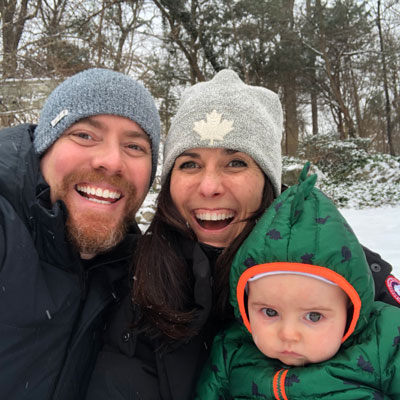 I work for a French company where I oversee all of our marketing, sales, and all external communications that come out of our United States division. I lead all front office aspects of the business along with just one other colleague who manages back-office items like IT and Finance. It's a big job, and I'm a new mom. It was a whirlwind, balancing that and full-time graduate school. And I also ended the program with a 3.96 GPA!
When I first signed up I was hesitant because of the online aspect, but the format of the program really worked for me. I did schoolwork after the baby went to bed and on the weekends. It's no exaggeration to say that the program is tailored for people with full-time jobs. It's been very accommodating to my life and the demands of my schedule.
The academics involved are no joke. The classes are difficult and we're learning a ton, but the material was delivered in a way that I could fit it in and have it work around my life.
How do you anticipate getting your master's in nutrition helping you in your current role?
My company has been amazing and has supported me throughout the program. The coursework directly benefited my job because the Sustainable Nutrition track directly applies to what we do in our business.
The courses that I took in this program made me really think about ways that we could impact the world and improve and become more responsible humans and a more responsible company.
In terms of other tangible takeaways, I also would ultimately like to get back into academia, and back into a more food-centered role. In the past, I have definitely been held back and not considered for faculty positions and other academic opportunities because of the lack of a master's degree. So that's a little bit more tangible reason why I decided to go back and how I hope to use my master's degree moving forward.
What would you want a potential student to know before starting this program?
I do have an insider tip that might be obvious to everybody, but that didn't occur to me in the beginning. UNE has developed designated pathways or concentrations with the MSAN, but you don't necessarily have to follow them. You can really cater the program to your particular areas of interest. So, whether it's Sustainable Nutrition, Disease Prevention, Obesity & Health Promotion, or opening your own nutrition consulting business or something that, you can handpick the classes that work for you.
That was a fun little discovery. I started the program thinking I was going to be on one track, but the more I learned, the more my interests shifted. I reached out to my Student Support Specialist, Stacy Mears, and he reassured me that I could take the courses that best fit my interests and my life.
So that's a little pro tip that I've been passing along to new students as I chat with them.
In general, the program is what you get out of it. I tend to overachieve, so I'm never happy with a low grade or the bare minimum. I did all of the readings even if they weren't required, and I watched all the optional recommended videos, and I reviewed all of the other recommended materials too.
I feel that I got a lot more out of the program by going the extra mile.
Also – take time right up front to identify your goals and what you want to get out of the program. My specific area of interest lies within the intersection of culinary arts, sustainability, and nutrition and how we can use nutritious and delicious recipes and food practices to improve and promote wellness and the world around us. Identifying my key area of interest has been important for me because it's been really grounding. This is what I've emotionally and professionally committed to for almost 15 years and the program was a natural extension of those interests.
When I was in the program I made a point of periodically reviewing my goals. It was a great reminder of why I was in the program and what I wanted to do with my life. When you know where you are going, you are more likely to get there – and I know that this is what I want to be my life's work.
Interested in earning your master's degree in the field of nutrition?
LEARN MORE WITH OUR FREE PROGRAM GUIDE
Tags:
Applied Nutrition | Graduate Programs in Applied Nutrition | Master of Science in Applied Nutrition | Master of Science in Applied Nutrition Alumni | Master of Science in Applied Nutrition Spotlight
---