Is it really possible to make a living helping others?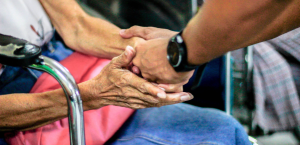 Are you looking to make a difference in the world? Feel passionate about lifting up your community members? Have empathy for people in challenging situations? A career in social work is calling your name! UNE Online offers a Council on Social Work Education (CSWE) accredited Master of Social Work (MSW) program that can fit into your life!
Choosing an accredited online MSW program will open up the door to an array of careers – many of which are available in most cities and towns across the country. According to the U.S. Bureau of Labor Statistics, salaries for social work professionals range from $30,000 to $80,000 a year, and salaries are dependent upon education, experience, location, and job type.
Professionals with an MSW may choose to work in hospitals, schools, government agencies, nursing homes, nonprofits, or other organizations. Each of these settings offers the opportunity to positively impact the lives of people in their moments of struggle and to build a supportive community.
What specific job titles are possible with a Master of Social Work degree? Let's take a look!
Mental Health Clinician
If you're interested in working with people in need of mental health support, a career as a mental health clinician might be for you. In this role, you'll provide therapy, counseling, and develop treatment plans. You'll offer a listening ear to those who need to be heard and advise them in steps to an improved quality of mental health.
Trauma Specialist
Trauma specialists support people who have experienced traumatic events, such as violence, accidents, natural disasters, or the death of a loved one. You'll help people cope with their trauma and work through their feelings in the healthiest ways possible. Trauma specialists work in a variety of settings, including hospitals and clinics.
Therapeutic Social Worker
Therapeutic social workers work with people experiencing various issues, including addiction, relationship problems, and mental health disorders. Therapeutic Social Workers employ numerous therapeutic modalities to guide clients through their unique situations.
Caseworker
Caseworkers provide social services to struggling families and individuals. In this role, you'll work with clients to help them access the resources they need, such as food, housing, and healthcare. You'll also help them navigate the social service system and connect them with other agencies and organizations that can assist them on their journey.
Case Manager
Case managers provide coordination and support to clients dealing with various issues. In this role, you'll work with clients to develop a care plan, connect them with resources, and provide support. You'll also keep track of the client's progress and ensure they're receiving the services they need.
Your MSW Degree – Your Way
A UNE education has fantastic return on investment. Many well-respected sources, such as The Princeton Review and U.S. News & World Report, have acknowledged the excellent quality of UNE's academic programs. The high level of professional achievement attained by many of our graduates is directly linked to the superior quality of the education we provide.
UNE Online's Social Work Master's degree offers maximum flexibility and is designed to fit your needs!
Available in both Full and Part-Time Formats
No GRE Necessary
100% Online
Completed in as Few as 16 Months
An online Master's in Social Work can open up opportunities for you to create the impactful career you have been dreaming of – a career that will allow you to empower individuals, families, your community, and the world.
Learn more about our online MSW program by visiting our website or browsing our Frequently Asked Questions page.
Your path to making your dream a reality is waiting for you!
Tags:
Master of Social Work | MSW | Online Learning | Social Work | UNE Online
---
One response to "Is it really possible to make a living helping others?"