Social Determinants and Health Informatics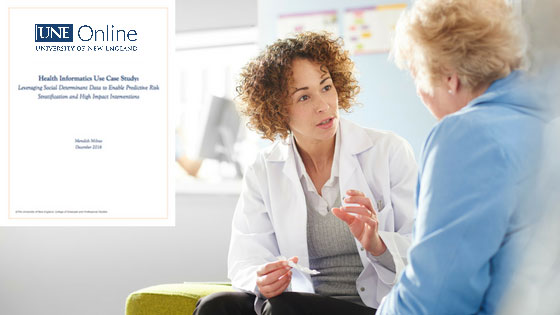 Using large data sets, Health Informatics professionals can identify health trends among populations. For example, you could leverage social determinants and health informatics. 
Health is affected by a complex web of factors, including social determinants of health.
Health is often attributed to genetics, and to some extent, lifestyle. We're told that if we eat a balanced diet, exercise with some regularity, and check in with our medical providers, we're likely to maintain good health.
Increasingly, however, it is becoming clear that our health is affected by a complex web of factors ranging from the availability of transportation to our family structure.
These factors are called Social Determinants of Health (SDOH) and according to the World Health Organization include the conditions in which people are born, grow, live, work, and age.
Using Social Determinants of Health to look at social determinants and health informatics
Social Determinants of Health are fundamentally used as indicators of larger trends. By analyzing large data sets, analysts can identify trends within a community and among categories of patients. The trends are then typically used for two purposes: to track and improve community-wide health initiatives, and/or to enable proactive interventions for individuals.
Understanding the "vital signs" of a neighborhood
Collaborations among health systems, community coordinators, patients, and peers enable the aggregation of disparate data across organizations to develop a more comprehensive and holistic patient record. As individual data is aggregated, analysts can run reports that assess the "vital signs" of the community as a whole.
By constructing a more comprehensive understanding of each patient, and by placing that in the context of larger trends, providers are able to intervene proactively to reduce risk and ultimately improve patient health.
Learn more: What's inside the White Paper?
This focused White Paper addresses the following questions about leveraging social determinant data:
In what ways can social determinants of health be used?
How can we leverage social determinants and health informatics?
What are some examples of communities analyzing SDOH to improve care?
What does this trend mean for healthcare?
For more information
For more details on the graduate programs in Health Informatics at UNE, we invite you to give us a call at 1 (855) 751-4445 or email an enrollment counselor at informatics@une.edu.
Or, fill out an online application now at online.une.edu/gateway-portal-page. We look forward to hearing from you!
Tags:
Graduate Programs in Health Informatics | Health Informatics
---