Get more out of your online education with... Facebook?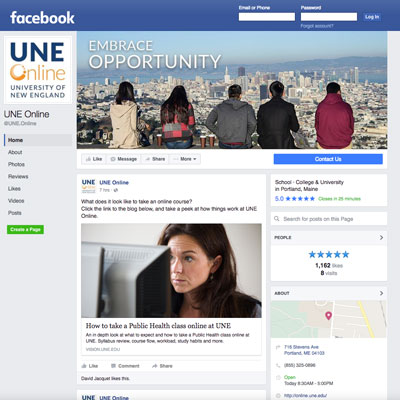 Because we feel Facebook doesn't have *quite* enough content – we've created a new Facebook page, https://www.facebook.com/UNE.Online
But to be serious, there's a lot to be gained from joining us on Facebook. The potential benefits of Facebook for students are not only limited to academic development, but also personal, social and career development.
Online social networks allow you to interact with your fellow students, your professors, and strengthen your network for the future. We are serious about creating a positive learning environment at UNE Online, and we feel that creating yet another avenue for increased communication will be beneficial to your online learning experience.
Backed by science
Studies have proven that education-based social networks can be used efficiently and effectively as a tool for improved online communications among students in online education courses. Fostering a sense of community is very important, especially in an online environment where you often don't get the opportunity to meet face-to-face with other students or the instructor in the course.
Since online social networks like Facebook facilitate the sharing of information, the technologies you use help discussion and create intimacy among online students, as you now have an enhanced ability to connect and build community in a social network.
What about Blackboard?
A significant part of many online courses are the online forums. While these certainly facilitate discussion, the discussion is often very focused on the topic at hand, and does not allow for branching out of exploring off-topic ideas and discussions. Facebook has that option of deepening discussion and building online relationships among students in an online community.
And encouraging online community building can extend learning outside the boundaries of the classroom, making for a richer educational experience, and more successful students.
Give us a "Like" to stay on top of what's on on in the world of UNE Online – grow with us!
Tags:
CGPS | Enrollment | online community | UNE Online
---
One response to "Get more out of your online education with... Facebook?"