Focusing Your Future: Which MSW Concentration Will You Choose?
Starting Summer 2020, these three specializations will be combined and our MSW will become an integrated clinical program. Students who start their MSW degree in or after the Summer 2020 semester will enroll in this integrated clinical program. Students who have enrolled in one of these specializations prior to Summer 2020 will complete their degree in that specialization. As a part of our ongoing high-quality education in social work, community- and clinical-focused electives will continue to be available for all MSW students to take.
The three MSW concentrations at UNE Online allow you to plan ahead and focus your degree so it's the best fit for your future career.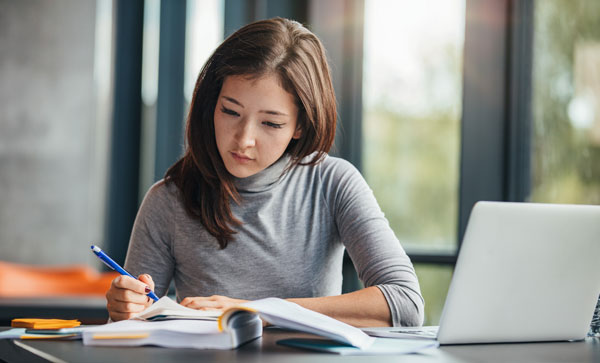 Everyone pursues social work for different reasons, but many do so because they or their family has been through the system and experienced firsthand the positive impact of social work. Students choose UNE Online for their MSW for the flexibility, diversity, and support.
While online students relish the work/life balance, they need an anchor. From the minute you show interest in the UNE Online MSW program, an enrollment counselor assists you with the application process. From there, the support pours in, guiding you through course registration, financial aid, field placement, and the entire program with a personal touch.
UNE faculty maintain a small caseload for the very purpose of getting to know your goals and interests so they can help you make the right decisions for your education. One of the most important decisions you'll make during your tenure is your concentration. Deciding what your degree will focus on, is a choice in interest, passion, and ultimately a career.
Choosing your path
UNE Online offers three MSW concentrations to choose from, depending on what your interests and goals are.
1. Clinical Concentration
How are people impacted by social circumstances? What drugs do certain patients require? For those aspiring to work individually with patients, UNE's clinical concentration area is the best path. You'll learn how to work with patients on a daily basis, from evaluating diagnostics to assessing the biological, psychological, and social effects on behavior.
Given the current political landscape, the demand for therapists is higher than ever. But that's not your only option when graduating with a Master's in Clinical Social Work. Opportunities abound in hospitals, rehab centers, substance abuse clinics, private practices, doctors' offices, and even nonprofit organizations.
2. Community Concentration
More interested in looking at social matters from a top-down perspective? The community concentration may be for you. Although this track does not have a clinical focus, you can still take clinical courses to support your studies. A concentration in community social work prepares students to work in community organization and development, policy, advocacy, and legislation — anything that relates to social justice.
Rather than careers in one-on-one medical settings, pursuing this macro approach leads to jobs in large advocacy groups, think tanks, and research institutes. Several members of Congress and state government hold their Master's in Community Social Work — it's this solid grounding in social work and justice that translates to large-scale change.
3. Integrated Concentration
Do both the clinical and community social work approaches interest you? Are you looking to get a well-rounded foundation in social work as a whole? The integrated curriculum at UNE Online prepares you for a career in which you can draw from both micro and macro perspectives.
Whether you become the executive director of a nonprofit or head social worker of a hospital unit, you'll be able to call on what you know about working with individuals, as well as what you know about overall social structures. Work as a therapist or in policy — the opportunities are limitless.
Looking at the landscape
There are skewed ideas about what social workers actually do. Not everyone with a degree in social work ends up conducting therapy sessions or home visits — although you can certainly opt to do so. In fact, according to the Bureau of Labor Statistics, employment of social workers is expected to grow 12 percent from 2014 to 2024 — faster than the average for all occupations.
Even positions that don't include "social worker" in the title can use someone with a background in the field. Any work that deals with vulnerable populations and circumstances such as fertility, foster care, adoption, immigration, substance abuse, homeless veterans, human trafficking, public policy, and everything in between — can benefit from this foundation.
Whatever you choose to do with your degree, don't be afraid to get your hands dirty. Many social workers start in casework, and the experience is invaluable.
The UNE Online MSW program is designed to help you find value in each working experience—and use it to effect positive change.
---
If you are interested in pursuing your Master's in Social Work, or even if you're simply interested in discussing the program, please reach out to an Enrollment Counselor at (207) 221-4143 or via email at socialworkonline@une.edu. Or you can:
GET OUR FULL MSW PROGRAM GUIDE
Interested in applying to UNE Online? The sooner you apply, the sooner you hear back. Fill out an online application today at online.une.edu/gateway-portal-page we look forward to hearing from you!
Tags:
Master of Social Work | MSW | Social Work
---
One response to "Focusing Your Future: Which MSW Concentration Will You Choose?"