Student Spotlight: Emily Bartlett, MPH Program
Can you tell me a little about your background, and why you chose to earn your MPH?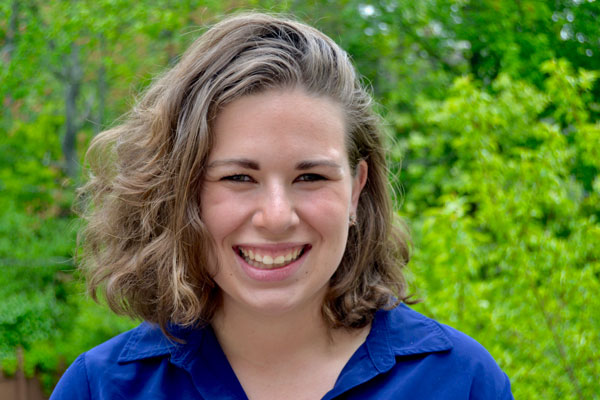 I'm from Maine, so I've known about UNE for a long time now. I got my undergraduate degree at The University of King's College in Nova Scotia, majoring in International Development with a minor in Health. Right now I work as a grant writer for The Salvation Army of Northern New England, where I write grants for their social service programs.
After graduation I wasn't sure what I wanted to do, but I knew that I wanted to continue my education in the health field. During my undergrad I took a course in epidemiology, which ended up being my favorite class. I loved the material potential, so I looked into MPH programs. Right now I'm just over half way through!
What do you hope to do with your MPH?
In the future, I'd like to work with refugee populations with a specific focus on reproductive health. So far, I've been able to align my MPH with my undergrad degree by focusing my studies on this population. Further down the road, I'm considering going for my Ph.D., but for now, I'm focusing on getting my Master's degree.
Why online?
The online format allows me to work and get experience while taking classes at the same time. I've found a job that's highly relevant to the field that I want to be in, so my job and my education are supplementing each other very nicely right now! I find I'm able to apply the knowledge I'm gaining in my public health classes to many everyday situations both inside and outside my work environment. Having classes online has been a wonderful way to get practical experience at the same time.
How did you get involved with the APHA-SA?
I heard about the APHA-SA (American Public Health Association – Student Assembly) on social media. I became a regular member after I enrolled and matriculated into the program. In late spring as the existing board was outgoing, I ran for office and was elected to the board. It's been really great so far! I'm super excited to be a part of the APHA-SA at UNE, and I really enjoy working with the rest of the board.
What's a typical event for the APHA-SA?
Last year, we held monthly Fireside Chats, and they're always on a different topic. We log on to the chat from our phones or computers, and we discuss different public health topics. It's been really helpful for me to actually see the faces of the students that I'm in classes with.
Right now we're moving towards securing bi-monthly speakers in order to have different contexts represented across the public health spectrum, and across the nation. I'm looking forward to having speakers from different backgrounds because it'll give us as students more ability to ask questions directly to professionals in the field.
What did you like most about studying at UNE Online?
The best thing about UNE Online is that I am in charge of my own schedule. I don't have to worry about classes conflicting with my work day. And if I'm planning on going on a trip or vacation, I just take my laptop, and my classroom travels with me!
If there's one thing you would want a potential student to know before starting in this program, what would it be?
You have to be very productive on your own. Each class is eight weeks, and I like that format, there really is no chance to get behind because something is due every few days. You need to be very self-motivated.
---
 Click here for more info on the MPH program!